Multiple fireworks shows and the Halifax Busker Festival bring high-energy glitz to the holiday weekend, while the Halifax Opera Fest continues a glamour-doused run and a Caribbean culture fest heats up The Common for maximum good times.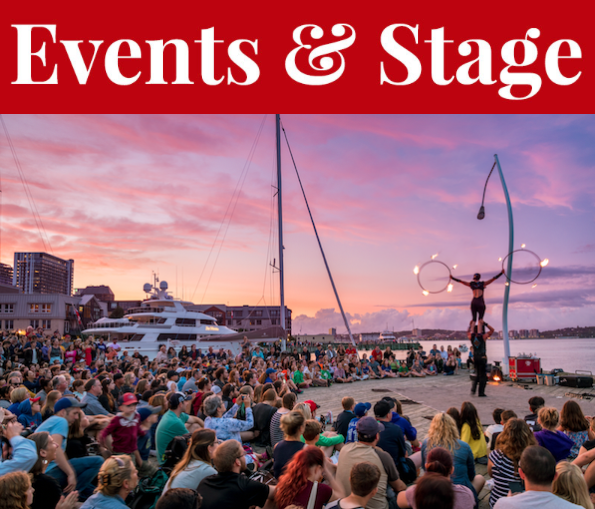 Submitted photo
The Halifax Busker Festival continues its run on the waterfront, with entertainment of all kinds and a carnival for peak summertime radness.
Twelfth Night
Friday, Sunday
As Shakespeare By The Sea continues to celebrate its 25th season, the theatre company remounts one of its very first productions: The bard's comedic tale of mistaken identity and complicated love triangles. This time around, though, SBTS decided to lean into the play's queer subtext for a fresh take on the classic. See it at Point Pleasant Park's Cambridge Battery. more deets
Natal Day Fireworks
Saturday, Sunday, Monday
You've got three (count 'em!) chances to catch some fireworks this long weekend, so here's the need-to-know info to get your fill of sky sparklers: Saturday at 10pm, a fireworks show will follow the Natal Day concert at Alderney Landing. Alderney or nearby Ferry Terminal Park will be the best place to view these. Sunday sees some poppin' off over the Halifax Common at 9:30pm, and Monday the action is at Lake Banook at 9:45pm. more deets
Halifax Busker Festival
Thursday, Friday, Saturday, Sunday, Monday
It's peak tourist time as the buskers descend upon the waterfront with their sword-swallowing, fire-breathing, strong-person ways. Keep your buddies close as you navigate the wall of bodies, and don't forget small bills and coins to tip the buskers. Also on site? The fest's mini-carnival, which helps make a day of it. more deets
Amy Stuart and Sarah Faber in conversation
Thursday
Get lit(erary) as national bestselling author Amy Stuart and Atlantic Book Award winner Sarah Faber discuss their novels, writing processes and more at this lecture. Stuart's latest, Still Water, is billed as "a deep dive of a thriller that will leave you breathless," while Faber's most recent work, All is Beauty Now, is described as "a sensual and beautifully written novel that reveals the soul of a family living in the shadow of tragedy." It all goes down at the Halifax Central Library. more deets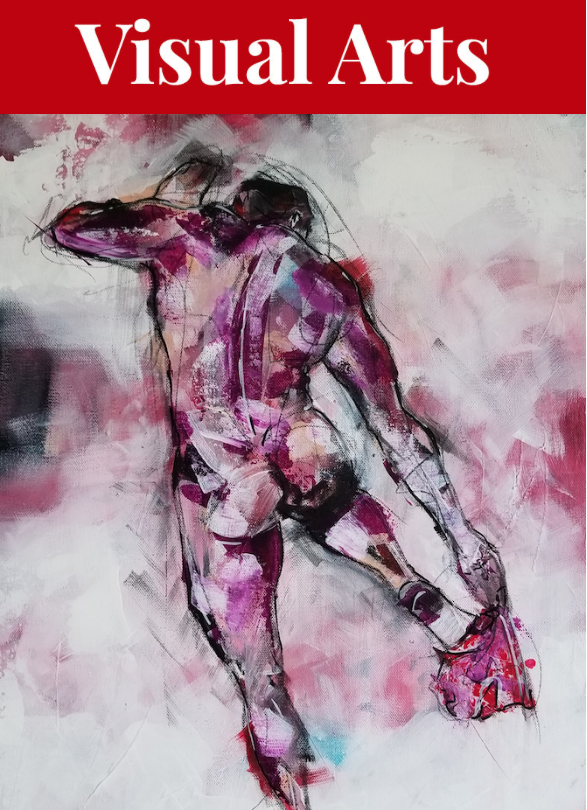 Doug Belding artwork
Doug Belding's ode to the male form arrives at The Dart.
Grand Theft Terra Firma
Thursday, Friday, Saturday, Sunday
"Pick your thief and play a part in the crime," reads the instructions to Grand Theft Terra Firma. A combination of installations and photographic compositions, the exhibition makes reference to the popular video game Grand Theft Auto, and invites visitors to participate in one of the world's greatest heists: Colonialism. Rather than choosing a mean-mugged car-jacker avatar, your choices range from engineer to miner, and the images explore a biting satire poking holes in colonial histories. See it before it wraps on Sunday at Saint Mary's University Art Gallery. more deets
Men's Room
Thursday, Friday, Saturday, Sunday
Scratchy odes to the male form by Doug Belding land at the Dart Gallery, emotionally charged colour palettes in tow. "The subjects are conveying a wide range of gestures and emotions from playful to stoic… just like real life," Belding's artist's statement offers. more deets
Reflexive
Thursday, Friday, Saturday, Sunday
The Craig sums up this multi-artist show best: "Abstract art is not 'about nothing.' At its core, it is about form, colour, line, texture, pattern, composition and process. These are the formal qualities of our abstract art, because they describe what the art looks like and how it is created. Our art is an exploration of these formal qualities. The meaning for the viewer is derived from how these formal qualities are used to create a visual experience." Get your own visual experience as the show opens this weekend. more deets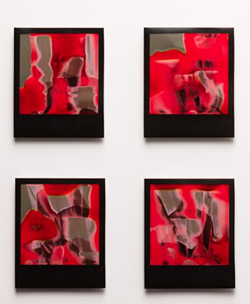 Instant Gratification
Thursday, Friday, Saturday, Sunday

ViewPoint Gallery member Charles Bishop explores the playful, spontaneous nature of instant film with a series of one-of-a-kind instant shots that sees abstract, manipulated images develop. "I wanted the viewer to experience the results of image engineering through heat, light, found objects and intimate physical manipulation of the inks in the photo," Bishop's statement adds.
more deets
Submitted photo
Roots-reggae up-and-comer Jah'Mila is the high point of this weekend's Caribbean Diaspora Multicultural Festival (which is saying a lot as the whole fest is lit).
Quaker Parents w/Ten Boy Summer, Wetface
Thursday
Can't make it to SappyFest this year? Catch the grunge-pop fun of fest headliner Ten Boy Summer at The Seahorse and revel in its irreverent rock. more deets
Caribbean Diaspora Multicultural Celebration
Monday
Drumming, dancing, a dominos tournament and food from all over the Caribbean flood the Halifax Common for this cultural feast, but the absolute cherry on top is the chance to see Casino Nova Scotia Artist In Residence runner-up Jah'Mila in jaw-dropping action. more deets
L'Incoronazione di Poppea
Friday, Sunday
The Halifax Summer Opera Festival kicks off with a baroque bang, performing Monteverdi's milestone work that was the first opera to be based on real historic figures and not mythology. Performed in Italian with projected English translations, you can see it at Dal's David Mack. Murray Studio Theatre. more deets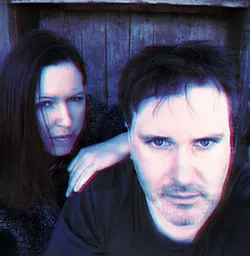 Paragon Cause w/Lethargicon
Saturday

"Dutch Orange and Cape Breton Green combine to bring their love of Hip-hop, jazz piano, '80s synthesizers and '50s guitars to create music that is mysterious yet familiar," promises the SoundCloud bio of this Ottawa duo who counts Ice Cube, A Tribe Called Quest, The Cure and Mama Cass amongst their far-flung influences. See the wildness in action at The Seahorse.
more deets