Buckle up for fun-filled days ahead as Oasis hosts an epic Super Bowl watching party, Pier 21 rings in The Year of the Pig, punk survivalist Eugene Ripper celebrates a new record and poetry book at Gus' and more!
David Chan Photography photo
If you haven't been paying attention to the Mooseheads all along, now's the time to tune in—and catch one of two games this weekend—as excitement for the Memorial Cup heats up.
Lunar new year celebration
Saturday
Ring in The Year of the Pig with this family friendly party at the Canadian Museum of Immigration that shares Japanese, Philipino and Chinese lunar new year traditions, like dumpling making and Chinese paper cuts. more deets
The Interfaith and Multicultural Day
Friday
A kickoff to the city-wide celebrations of World Interfaith Harmony Week, Ummah Mosque hosts this service that also includes a free hot lunch, Q&A session, henna, Arabic calligraphy and more. more deets
Super Bowl party
Sunday
A free watching party of the Maroon 5 concert—er, we mean, 2019 Super Bowl—is goin' down at Oasis, with lots of door prizes and a half-time buffet. more deets
Halifax Mooseheads
Thursday, Friday
As a promising season for the Moose begins to wind down—and the pre-Memorial Cup fever heats up—now is the time to hop the hockey bandwagon. more deets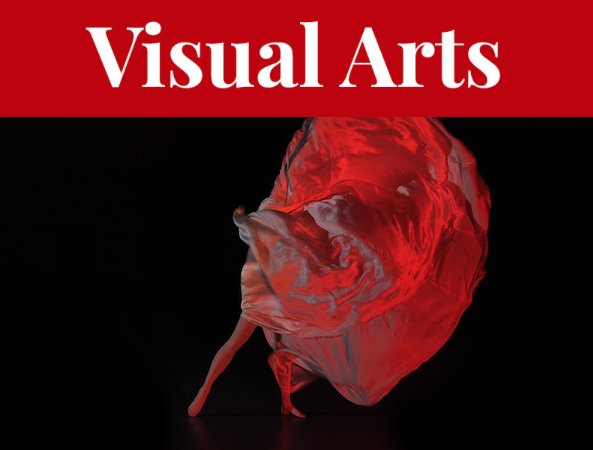 Jenn E Norton artwork
Get absorbed in soft textures at The Mount's latest exhibit, Slipstream.
Under and Over You
Thursday, Friday, Saturday
Juliana Benoit meditates on the power of first loves with porcelain ceramics that explore "the poetic vulnerability, heartache and lust inherent" in these formative relationships. See the results at The Anna. more deets
Slipstream
Thursday, Friday, Saturday, Sunday
Jenn E Norton's world-within-a-world takes over Mount Saint Vincent Univerty's gallery space, with "six reflective panels positioned in an inward-facing ring [to] create channels of infinite regress. A dancing figure in the form of a spiraling flurry of silk moves from one panel to another. As the dancer traverses the ring, it appears that the viewer and the figure share the same physical space," the gallery says. more deets
Dinosaurs Unearthed
Thursday, Friday, Saturday, Sunday
Billed as "an immersive exhibition that features dynamic scenes of life-size, lifelike animatronic dinosaurs, full-scale skeletons and fossils from around the world," this newly opened Museum of Natural History show makes all your Jurassic dreams come true. more deets
Knickknacks & Psychopomps
Thursday, Friday, Saturday, Sunday

Billed as "a crossroads of the trivial and profound," Frank Forrestall's Dart Gallery show "explores the uneasy relationship between humanity and nature."
more deets
Submitted photo
Punk survivalist and fast-folk pioneer Eugene Ripper brings a double dose of Beat-feeling poetry to Gus' this weekend.
Big Country North End Jamboree
Sunday
Honky tonkin' tunes to end the weekend await at this party thrown by Big Country Ramblers. Also featured: pie raffles. It all goes down at Gus' Pub. more deets
Handel's Water Music
Saturday, Sunday
"Handel's Water Music is one of the Baroque era's smash hits," Symphony Nova Scotia explains of its upcoming St. Andrew's United Church show, promising that its cover of the 1700s equivalent to a club bop will make your head nod and toes tap with "bright, open-air sounds." Sign us up. more deets
Eugene Ripper album release show and book launch
Thursday
The self-described "Canadian punk rock survivor and fast folk pioneer" (and total genre legend) Eugene Ripper returns to Gus' Pub with a double dose of Beat-feeling original poetry—both in song and book form—to make you feel all the glorious feels. Rounding out the fun? Ripper spins an after-show DJ set of "classic UK/Canadian/US new wave and all the cool stuff that got us there" (think garage, soul, ska, outlaw country, motown, bubblegum, funk, rock and more). Wear some dancing shoes. more deets
Jon Samuel w/Museum Pieces, Shadow Folk
Friday
The Wintersleep keyboardist celebrates a solo venture, Dead Melodies, with this Seahorse show, delivering a stubborn strand of indie-rock that argues art is still worth it.
more deets