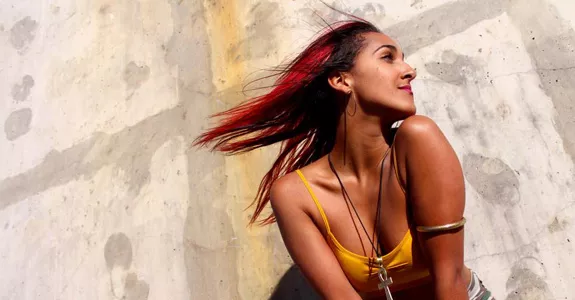 It doesn't take a genius to figure out what Samm Splash's The Breakup EP is about. Songs like "Feel Nothing" and "Cheater" do a pretty good job of laying (broken) hearts on sleeves. In the grand tradition of making art out of hardship, Splash admits that she just can't write a song when she's happy. "When I'm sad I write, when I'm happy I just can't do it," she says. "I was going through a really happy phase of my life and I just didn't write anything, it was terrible! I was just like 'I'm on cloud nine, what's going on?' I'm not good at writing party songs because I can't write when I'm happy."
Fortunately, the mood suits the music. Smooth hip hop-inspired R&B vocals---Splash lists influences Chaka Khan, Erykah Badu and Alicia Keys ---with clean production courtesy of Johann "Yogidaproducer" Deterville, typify Splash's sound. Splash's refined sound has roots in her childhood influences of pop, as well.
"In high school me and the girls always had a girl group, we were Destiny's Child, all those groups when we were little. Schoolgirls was our group name. Original, I know," Splash says, laughing. Splash performed as often as she could at school functions, singing the national anthem at events, playing the lead role of Annie in a school play. She got her "Splash" moniker at age 14. "I wish it was a more interesting story but I loved Juelz Santana and he did a song with Jim Jones called 'Splash', I was always saying that after everything and it just caught on," she says. "I couldn't get rid of it."
Like the name has stuck to her, Splash has stuck to her work. Singing backup vocals for Asia and NuGruv and Erin Costelo not only helped develop the young vocalist's stage presence but also pays the bills. "It's fun too. I was learning how to sing backup in school---really learning how to use that craft," she says. "I was doing backup before I started going solo and it really helped with my stage performance." That said, Splash says performing can make her nervous more than anything else, "I'm usually like, someone please give me a huge hug before I cry," she says, laughing.
Face to face Splash is lively---rocking her fire-engine-red hair---and happy. Based on personality alone, you don't expect the moody, introspective songs she performs. "When I wrote 'Feel Nothing' it was a sad song," she says. "I showed it to friends and they were like 'Oh yeah, that makes me feel good. I want to party!' I thought, 'OK...I was so sad when I wrote that.' But now that's sort of what it turned into. When I play live with the band"---including longtime collaborator Ross Avey, Ian Bennett and a rotating cast of drummers---"we make them sound happier than I do in my room."
While her subject matter is emotional and heavy, Splash's image is pure fun. In late July she shot a video for "Cheater" that found her happily indulging in music video tropes. "We wanted to make it all girls like 'forget you' to the guy, doing hair and makeup and yelling at him on the phone," she says. "Just cute---really cheesy stuff." There's a party bus, a souped up orange motorcycle with lights on top, a party scene and dance routine. Premiering at the EP release, the video promises to be like Splash herself---fun with substance.
---
Samm Splash w/Shevy Price, Nicole Ariana, Earl B, Zora the Sultan
Saturday August 3, 9pm,
The Company House, 2202 Gottingen Street
$10 at the door, $10 in advance (includes free EP) For advance tickets: sammsplashmusic@gmail.com