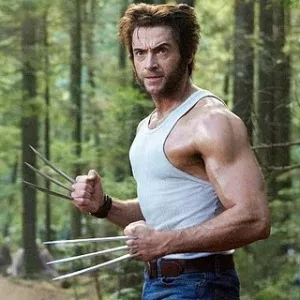 Hugh Jackman in a wife beater.
I am in a small hotel room on a fourth floor in Manchester, New Hampshire. I have arrived into town by bus from Burlington, Vermont.
The night is calm and warm; the days have been very hot. When I get off the bus I start asking anyone I see (various groups of men) for directions to cheap accomodations and am directed immediately to the wrong side of the tracks where I stride purposefully up and down lumpy sidewalks sprouting weeds on dark streets. In the gloom I see the shape a man with a cane approaching and think, "Oh, good. A guy with a cane is not going to be any trouble. If I need to, I can take this guy." As we near each other he stops using the cane and holds it in his right hand—he doesn't know who I am either. So I ask him too, about whether I am on the way to the Econo Lodge, and at first he has no idea but then he does, and I stride off, and lucky I am looking around because down a really dark side street, and not where he said, is the hotel sign. It is getting on to midnight.
I am checked in by a tiny ancient Punjabi man in a too large, brown suit jacket with a flag lapel pin. It takes a long time but we are both unfailing in our politenesses. While waiting for various machines to hum or whirr clientele come in and make their way through the lobby: tough looking guys in wife beater shirts and tiny, tired women in tight leggings. Almost every motel I have stayed in has been the kind which offers rooms by the week or month; they have the air of places where the sheets are changed only once a week. Often there is a no-cooking-in-rooms rule and small, rusting barbeques sit outside.
Once checked in I get a bottle of orange flavoured soda and up in my room need to immediately turn on the air conditioner, something I very rarely do. As I am trying to get the TV to come on Mr. Big Coat calls to ask if the room is ok. "Perfect," I say. "Thank you so very much." The TV never does work.
The day after tomorrow this walking is going to come to an end, God willing and the creek don't rise, as Lis van Berkel and Jane Wright drive down from Halifax to pick me up. I plan to take another bus to Portland, Maine and then walk to Freeport and meet them there.
Tonight to odometer reads 1,182.7 miles, which is 1,903 kilometers.