Hoo boy! It's my turn at bat again today, and I couldn't be happier. We are so tantalizingly close to finding out who will rule the day in our New vs. Old Media March Madness that I grow dizzy at the thought of it. Maybe I also grow dizzy because I spent a large part of last night sitting beside an old oil tank. But that's a story for another blog post. Probably one about an all ages show or something?
Click here for a refresher on what this bracket business is all about or if you also lost a few brain cells breathing in oil fumes last night.
The bracket with the latest crop of winners in all its glory: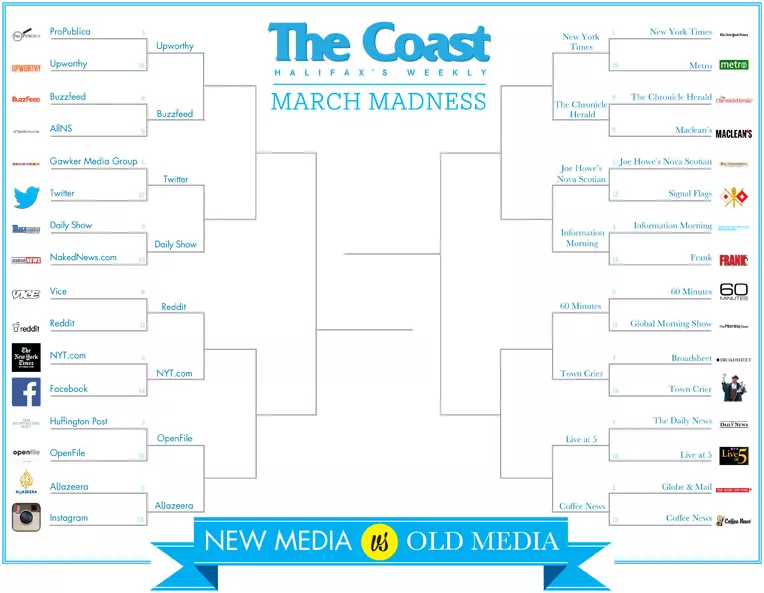 As you and I and the layer of saran wrap on your toilet seat this morning know, it's no longer March so I'm gonna get a shimmy on and move along. Here's what happened yesterday: Upworthy beat Buzzfeed by 19 or 20 percentage points (DAMN YOU TWIIGS POLLS!), armchair activism won out over pictures of old toys under some kind of theme after all. But respect to Buzzfeed for funding some great writing lately. This article is a doozy, for instance.
New York Times walloped the Chronicle Herald 79 to 20, according to this completely messed up polling system that I did not invent. WHITHER THE ONE PERCENT? I'll tell you, they're at the New York Times. ZING! Consider that custom roast is the equivalent of me pouring one out for my Chronicle Herald bruh-bruhs in their time of loss.
Today the pint-sized-in-character-count but king-sized-in-character powerhouse Twitter faces off against The Daily Show with Jon Stewart. Twitter recently took a swing at Stewart's buddy Stephen Colbert with last Thursday's #CancelColbert campaign over a potentially out of context (but does it matter?) racist satire. You are going to have to Google that on your own, my friends. Will the sharp keystrokes of Twitter overtake yet another satirical news show? Idk. I really dk.
And on the right side of the bracket (but the wrong side of technological advances), Joe Howe's Novascotian squares off with Information Morning. I'm still stinging over signal flags' big loss to Joe "Good Superstore" Howe. Think of the rhythmic gymnastics you could do with the flags while not in use! Dual purposes! But how can you really compete with Information Morning's sweet, non-intrusive airwaves and the valuable information they carry?
OK, go to it.