Welcome back to early-April Madness, the Coast's incredibly serious tournament in which Old Media and New Media (dead and alive) battle for the greatest prize of all, pride. If you're just catching up now, you've missed a lot of action but you can get a refresher here. If you've been waving your thunder sticks with spirit all along, we thank you. Here's the tourney at a glance: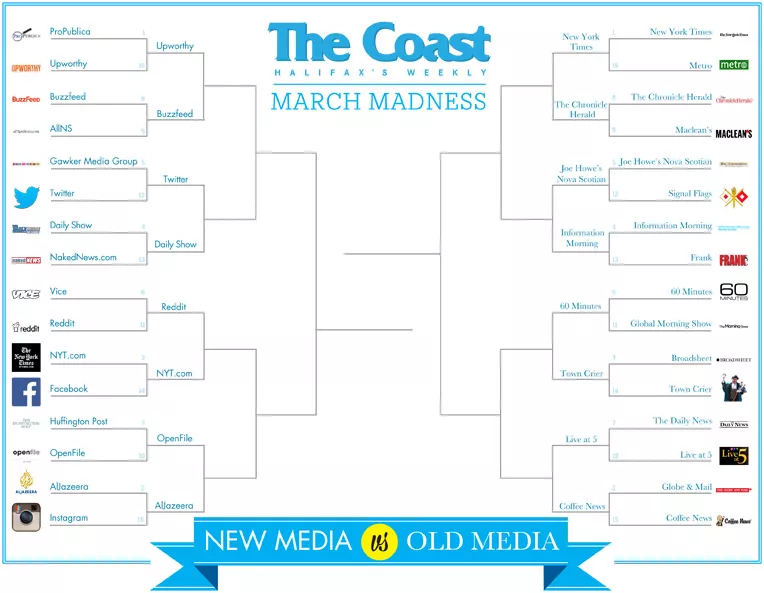 Day 10's action saw babe of the century Jon Stewart and his equal parts brainy/hilarious Daily Show trounce the Twitter trolls 76-23. We can see the subtweets now— "Love it when phony journalists get recognition they don't deserve #overrated. Over in Old Media fourth seed Information Morning helps to bring our only radio contender (weird) closer to the finals, defeating Joe Howe's Novascotian 69-30. Congrats on defeating a local legend Don and Louise, maybe one day you'll get a Superstore named after you, too.
OK, shall we get to Day 11 before this is May Madness? On the New Media side 11th seed Reddit takes on third seed NYT.com. We expect a TKO because NEW YORK TIMES, this website does more in one day than I'll ever do in my lifetime. That said, Reddit works in mysterious ways. Reddit lovers are everywhere, and they are always online, and they're probably watching me type this somehow. Hi guys! Sorry I called you neckbeards last time! Please don't kill me or host an AMA about killing me!
In Old Media sixth seed 60 Minutes lubes up in Ben Gay to take on 14th seed and total mouthpiece Town Crier. An aged television show where the journalists really listen to peoples' stories and then thoughtfully share them versus an intense dude who just yells things at you. Well, I guess that's kind of what Andy Rooney used to do. Maybe these two contenders should just team up and call it a day.
Vote hard!