As we begin the weekend of reduced price chocolate, I'm here to honour the snacks that have no holiday associated with them (but wait, maybe all of summer?). While you're busy unwrapping tiny foil eggs and biting the ears off chocolate bunnies, chips and pop are always there—giving you a wise but knowing smile—you'll be back once your Easter Rumspringa is over.
It's our chips and pop March Madness bracket, fool.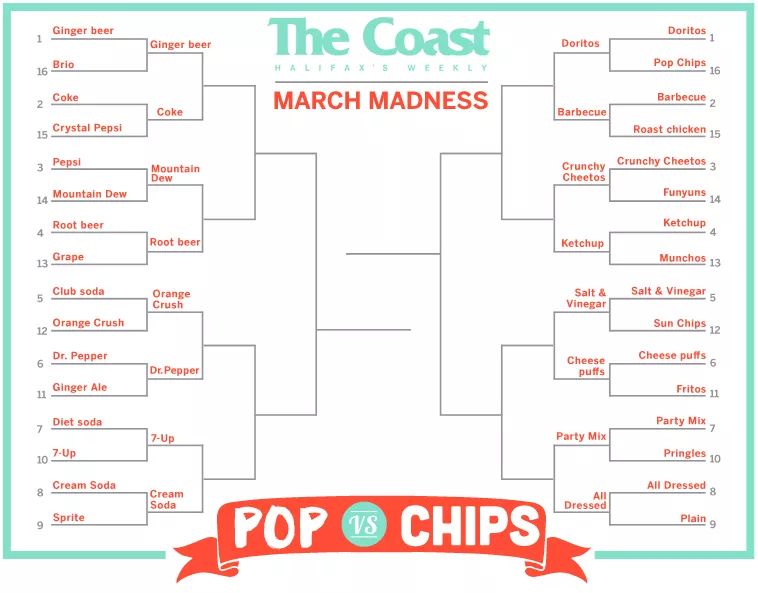 But first, I know you're hungry for yesterday's results. Dr. Pepper did a complex flavour profile dance around Orange Crush (pssht, you've only got ONE flavour? That's some rookie shit), winning 59 percent of the votes. Salt and vinegar and cheese puffs were locked in a dead heat. We've never had a tie in our March Madness before, but (new rule) in the case of one, it's ladies' choice. And the winner is.... CHEESE PUFFS! Sorry, briny potatoes, you're out. All because I hate you.
Today's pop battle pits the summery 7 Up against the Easter of pops, cream soda. This is like a half-assed Sophie's choice for me. I kind of like both of these. Not as much as I love plain club soda, but they are pretty refreshing in certain situations. Sometimes. Lemon-lime or ...sugar (?) flavour? Maybe vanilla? Um, hold please.
From our Lord and Saviour, Wikipedia:
"Alexander C. Howell, of Vienna, New Jersey, was granted a patent for "cream soda-water" on June 27, 1865. Howell's cream soda-water was made with sodium bicarbonate, water, sugar, egg whites, wheat flour, and "any of the usual flavoring materials—such as oil of lemon, extracts of vanilla, pine-apple,to suit the taste" before drinking, the cream soda water was mixed with water and an acid such as tartaric acid or citric acid."
You crazy for this one, Howell!
Also, maybe cream soda was invented in Berwick? I love local!
"In Canada, James William Black of Berwick, Nova Scotia was granted a U.S. patent on December 8, 1885, and a Canadian patent on July 5, 1886, for "ice-cream soda". Black's ice-cream soda, which contained whipped egg whites, sugar, lime juice, lemons, citric acid, flavoring, and bicarbonate of soda, was a concentrated syrup that could be reconstituted into an effervescent beverage by adding ordinary ice water."
Oh hold up though, that sounds disgusting. But vote anyway:
The next two chips to duke it out are really all or nothing types. Nothing by a half measure here. Party mix—a manic pixie dream mixture of pretzels, corn chips, nacho chips, ringolos and crunchy cheezies—promises to please even the most finicky crowd at your next function. All dressed chips—some satanic marriage of vinegar, bbq, ketchup and sour cream flimsily bound together by a rippled chip—all but guarantees to turn your friends against you and make you lose your job. But, as always, it's your choice!