Guys, I am very excited for today's matchup but also still reeling over yesterday's results! This is what March Madness is all about! See?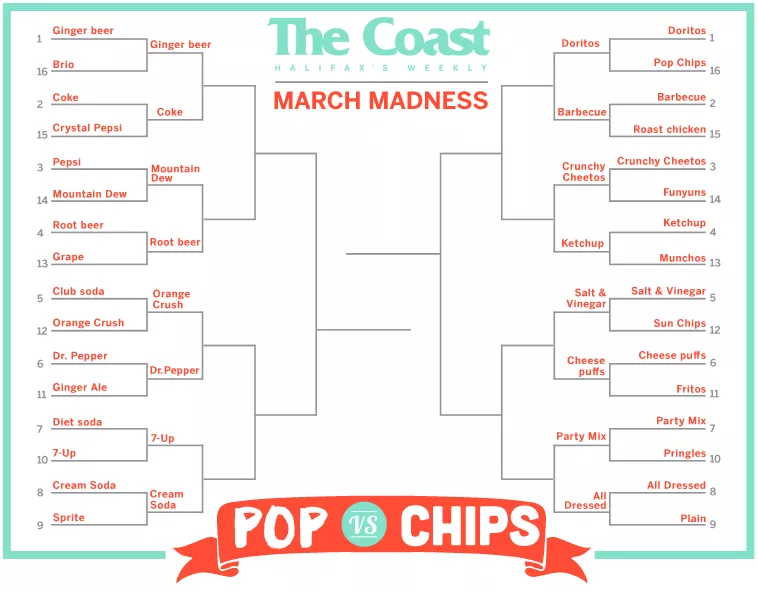 Before we proceed, let's debrief. My two favourite babies, root beer and ginger beer had to battle it out. It was really hard to watch! Like two kittens playfighting! Root beer, the slightly more down to earth beer, won out over my personal favourite ginger beer with 59 percent of the vote. Wow. Goodbye ginger beer, it hurts to see you go almost as much as it hurts to drink your sweet and spicy contents.
While I'm already crying, let's discuss the chip category. Doritos—my moon and stars—LOST to crunchy Cheetos and you know what the worst part is? When I mulled over this seemingly insane occurrence, I sort of got it!! If this isn't a huge betrayal I don't know what is, so I immediately threw on the hairshirt and crucified myself (#topical).
It's hard to write now what with the stigmata so I'll make this short. Vote on today's brutal match, Dr. Pepper (spicy, cherry-flavoured, bizarre) and cream soda (vanilla, candy-like, pink or white).
And/or chips: Cheese puffs (light-as-air, nostalgic, comforting) versus Party Mix (diverse, could potentially have cheese puffs IN there, but pretzels)