Welcome to day two of the Madness that is March. This ain't Wikipedia's definition of the term, that's for sure!

No breeding going on here! Unless you count breeding discontent over the gross types of chips and pop that may win out over my beloved Doritos. No, instead of getting it on like bunnies, we're making our babies fight! Chips versus pop, may the winner be hailed forever.
Here's a recap if you are confused (understandable).
And here's our bracket to show our matches: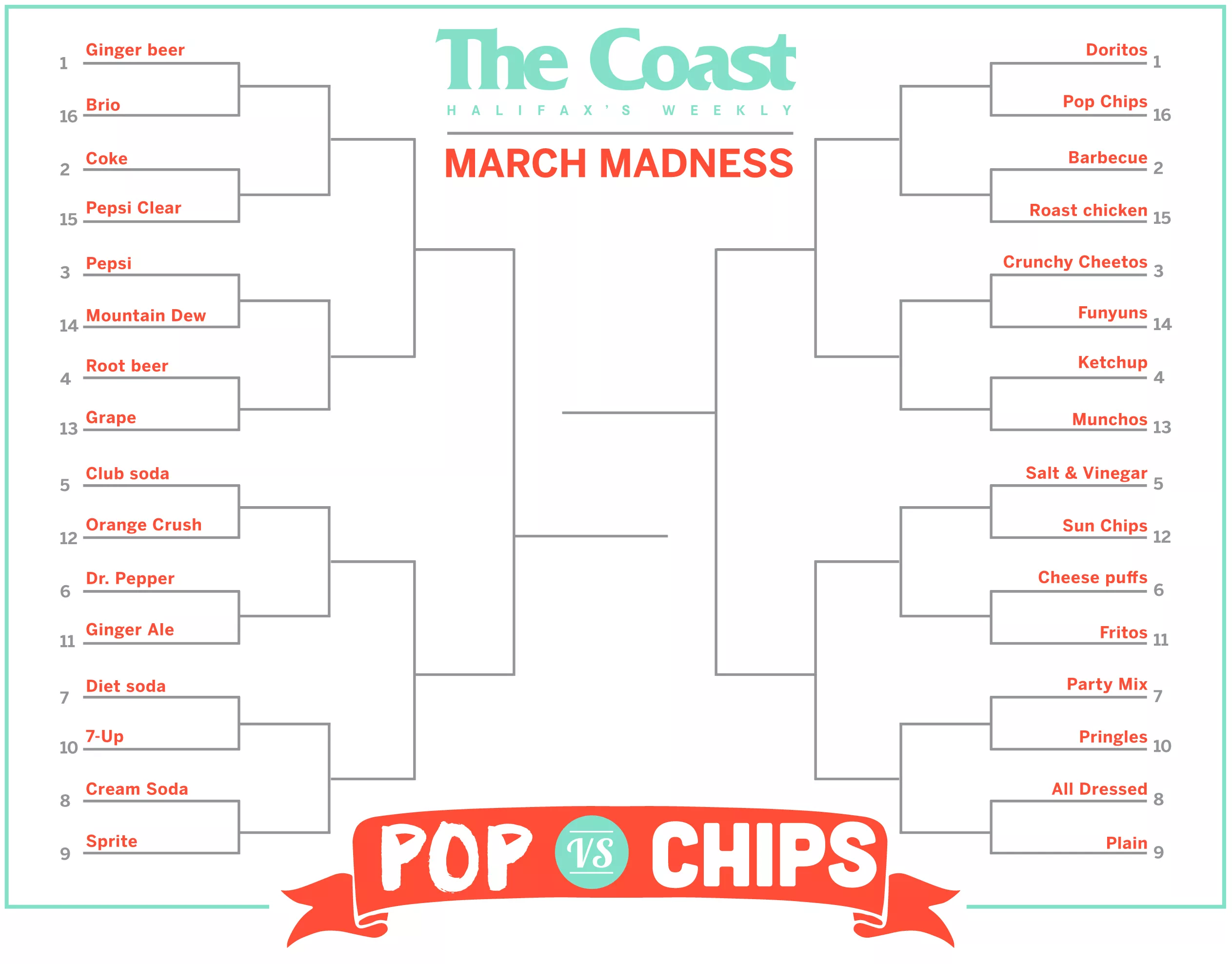 But first, we need to celebrate the winners of day one! I should have done this yesterday but I was alternately making the cats kiss and watching my boyfriend shovel the driveway. As we all were.
As predicted, people really are inherently good and both Doritos and ginger beer won. In landslide victories, I might add. Ginger beer taking 81 percent of the votes (side-eying the 12 complete weirdos that chose Brio) and Doritos taking a whopping 93 percent. Even if some of those people were voting for Cool Ranch (or even worse, ketchup), I will still happily celebrate this win.
Today in pops culture, Coke goes against Pepsi Clear. I don't know why we thought it was Pepsi Clear instead of Crystal Pepsi, but when we made this list, that's what came to mind. Must have been that crazy limited time in Mexico.
Anyway, Crystal Pepsi is what we're talking about, and you know that stuff was weird on principle. We all had one (if you were old enough) and it was fine I guess? Van Halen talked us all into it!
Coke stayed the course and did not make anything clear (except Tab, and who cares about that). That's why I think we should reward Coke and punish Pepsi's hubris. Also, it's COKE! Are you really going to front here? Coke. Seriously.
The chip match ups have a bit of a theme, coincidentally. Cooking, I guess? Roasted meat, for sure. Barbecue chips plan to crush the competition of roast chicken flavour into tiny chip dust particles. Roast chicken plans to stick barbecue in a pan with a lemon up its butt. Who will win out? The classic smoky snacks or the sort-of-a-meal chip? You decide!