Welcome to the final match-up of the first round of our annual March Madness tournament, in which we unleash our inner team players in the name of snacks. Which is superior, Pop or Chips? Only time, and many of these blog posts dissecting artificial flavours, will tell. Catch up on what you've missed here, or check out the bracket below.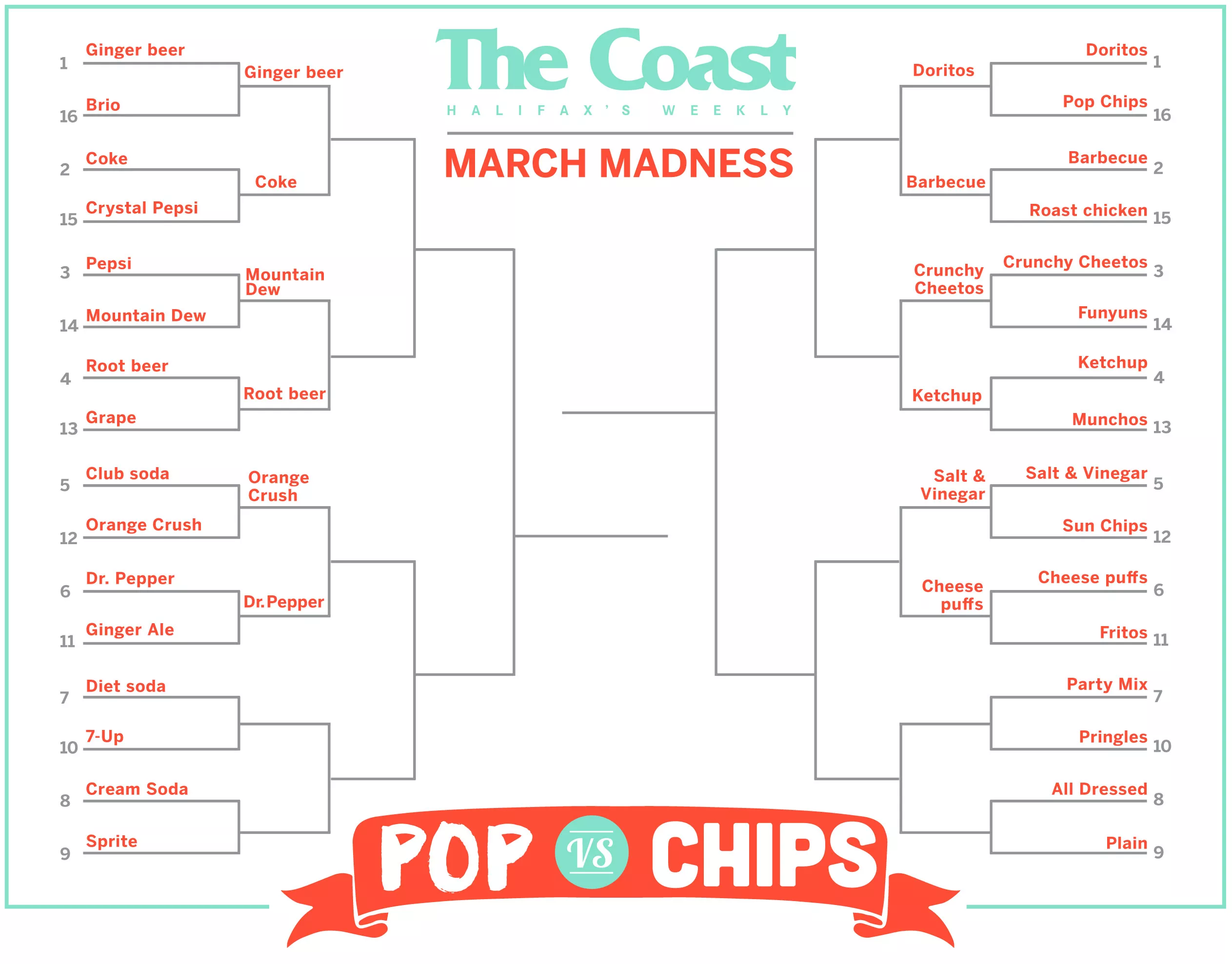 Yesterday's snoozers saw 10th seed, 7-up, muster up enough non-caffienated strength to defeat every diet soda ever by a score of 34-14. Sorry diet lovers, only full sugar from here on in. On the chips side of the bracket we learned ain't nothing gonna break Party Mix's stride—not even pretzels—the seventh place chip medley defeated 10th seed Pringles by a score of 31-17. Maybe if Julius Pringles would have loosened up the bow tie a little we'd have a different result.
Today sees standards taking on eclectics. The beverage match-up pits eighth seed Cream Soda against ninth seed Sprite. I'm totally thinking pink on this one—firstly, because if Orange Crush can win your votes, the equally nostalgic/sickening Cream Soda should be able to easily, but also this cartoony liquid ice cream is so friggin' tasty. That said, it would be pretty great to have Sprite—Coke's answer to 7-up—win and have to take on its fellow lemon-lime liquid. It'd probably end in a tie because there is ABSOLUTELY NO DIFFERENCE BETWEEN THOSE TWO POPS.
The chips competition gives you a taste of both worlds—the really boring world (ninth seed Plain) and the super salty and intensely artificially flavoured world (eighth seed All Dressed). JK everyone, plain chips have their place and it's dunked in a heaping bowl of mayo-based dip. I'm breaking out my purple (the official AD colour, duh) jersey tonight to cheer for the sour cream & onion, ketchup, salt and vinegar and barbecue combo—it's All Dressed up and ready to kick some Plain ass.