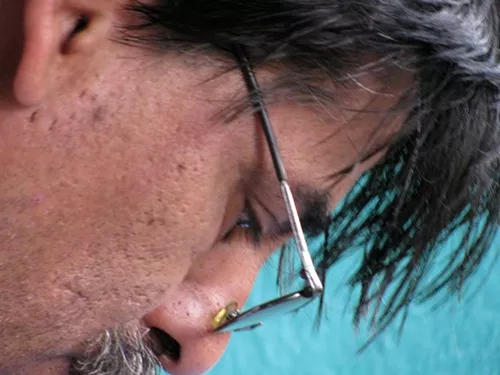 It seems strange me to have a tailor, but in Alajuela I do. I found Marco by chance, walking home one day, managed to remember where he was and began taking things in—shirts to be shortened, shorts to be hemmed, and finally, my Bimbo shirt, to be hemmed up and have the sleeves taken up a bit.
Parece extraño que yo tenga un sastre, pero en Alajuela que hago. He descubierto por casualidad Marco, caminando a casa un día, logró recordar dónde se encontraba y comenzó a tomar las cosas en - camisas que se acorte, pantalones cortos para ser encerrado y, por último, mi camisa Bimbo, que se han encerrado y tomado las mangas un poco.
Marco is a really nice guy, sitting at his machines most hours of most days, his dog Roxie barking from a back room.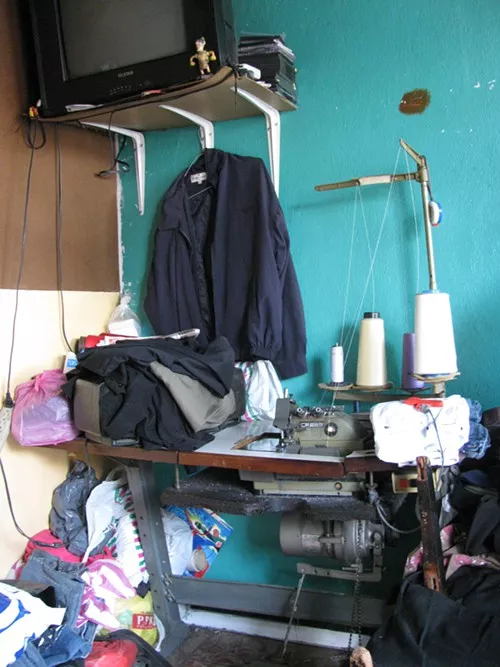 Most of the time whatever the work to be done, it isn't ready and I sit myself down on the red wood chair by the door and watch while Marco does the work. One time I went by to pick up something. Marco and an older man were slumped in two chairs watching a spanish soap opera on the TV, which is high on a wall looking precarious on a cardboard shelf. "Oh, ho!" I said loudly that day. "And I suppose the work isn't done?" Marco jumped up to do the work and I got his chair for soap opera viewing. People are constantly appearing in the doorway with tailoring to be done. Marco marks the garment with a big yellow crayon and tosses it onto one of the piles of work waiting to be done. There are quite a few piles but he seems to have his own secret system. Folks also just yell hello as they pass. I think Marco has eight kids; there is a grouping of small photos of kids on one of his walls. If they made a movie about him he could be played by a younger Edward James Olmos.
Marco es un tipo muy agradable, sentado en su mayoría de las máquinas vivienda de la mayoría de días, su Roxie perro que ladra desde una habitación del fondo. La mayoría de las veces sea cual sea el trabajo por hacer, no está listo y me siento en la silla de madera roja junto a la puerta y ver cómo funciona el Marco. Una vez que fui a recoger algo. Marco y un hombre mayor se cayó en dos sillas con una telenovela de español en la TV, que es lo alto de una pared que mira precaria en un estante de cartón. "¡Vaya!" Me dijo en voz alta ese mismo día. -Y supongo que el trabajo no está hecho? " Marco se levantó para hacer el trabajo y tengo la silla para ver las telenovelas. La gente está constantemente apareciendo en la puerta con la adaptación por hacer. Marco marcas la prenda con un gran crayón amarillo y lo lanza a uno de los montones de trabajo esperando por hacer. Hay bastantes pilas pocos pero parece que su sistema propio secreto. La gente también acaba de gritar hola a medida que pasan. Creo que Marco tiene ocho hijos, no es una agrupación de pequeñas fotos de los niños en una de sus paredes. Si hicieran una película sobre él que había podrían desempeñar un joven Edward James Olmos.
The last thing Marco did was work on my Bimbo shirt. Bimbo is a giant bread company based in Mexico; it supports a soccer team, Saprissa. I looked for weeks for a Bimbo shirt. I didn't want a football shirt, I just wanted a shirt with the word Bimbo on it. I never did find one. I had to settle for a football shirt, a really nice one I got for 40% off, but it still ended up being more money than I usually spend on a shirt.
Marco works on the Bimbo shirt
Lo último que hizo fue Marco trabajar en mi camisa de Bimbo. Bimbo es una empresa de pan gigante con sede en México, sino a un club de fútbol, Saprissa. Busqué semanas para una camisa Bimbo. Yo no quería una camiseta de fútbol, sólo quería una camiseta con la palabra Bimbo en él. Yo nunca la encontró. Me tuvo que conformarse con una camiseta de fútbol, un muy bonito que conseguí el 40% de descuento, pero aún terminó siendo más dinero del que suele gastar en una camisa.
Now the thing about Saprissa (and this is very important) the Bimbo-supported team, is that it is the avowed enemy of the Alajuela football team, LDG. This is one of the very first things I learned in Costa Rica, and back then, I got myself a plastic LDG ring to celebrate feeling a little more like a local. So when I brought the Bimbo shirt to Marco he yelled, "Saprissa!" in such a way I knew immediately that he was, like me, an LDG fan. "Si!" I yelled back. "Saprissa is no good!" And then I explained what bimbo means in english and that I wanted a shirt with bimbo on it and just my rotten luck I had to get a stupid Saprissa shirt.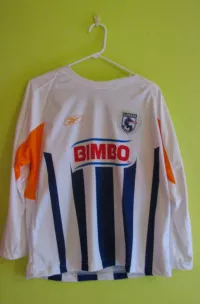 Ahora la cosa sobre Saprissa (y esto es muy importante) el equipo de Bimbo-compatible, es que es el enemigo declarado de la Selección de fútbol de Alajuela, LDG. Esta es una de las primeras cosas que aprendí en Costa Rica, y en aquel entonces, me tiene un anillo de plástico para celebrar LDG sintiendo un poco más como si fuera local. Así que cuando me trajeron la camiseta Bimbo a Marco le gritó: "Saprissa!" de tal manera que yo supe inmediatamente que él era, como yo, un ventilador de LDG. "Si!" -Grité de vuelta. "Saprissa no es bueno!" Y entonces me explicó lo que
bimbo
significa en Inglés y que quería una camisa con bimbo en él y sólo mi mala suerte que tenía que conseguir una estúpida camiseta del Deportivo Saprissa.
I went to pick up the Bimbo shirt today. It wasn't ready. As Marco worked on the shirt he mimed cutting it to shreds. "I know," I said. I excused myself and walked a block back towards the central market, found a store selling sewing items, drew a little stitch ripper on a piece of paper for the clerk and bought one for 200 colones. Back at the shop the shirt was ready and I showed Marco the stitch ripper. "Ah!" he said. I'm going to use it to get the Saprissa badge off the shirt.
Fui a recoger la camiseta de Bimbo en la actualidad. No estaba listo. Como Marco trabajó en la camisa que imitaba cortarlo en pedazos. -Ya lo sé-dije-. Me excusé y caminó una manzana hacia el mercado central, que se encuentra una tienda de artículos de costura, señaló a un destripador puntada poco en un pedazo de papel para el empleado y compró una de 200 colones. De vuelta en la tienda de la camisa estaba listo y me mostró el Destripador Marco puntada. "¡Ah!" dijo. Voy a usarla para obtener el Saprissa insignia de la camisa.