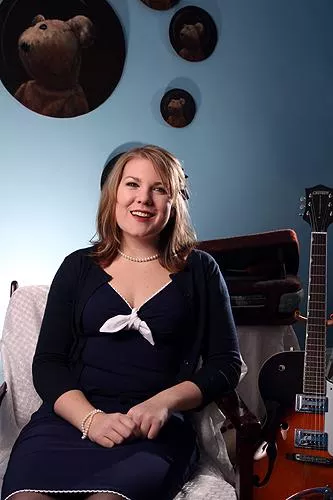 For Mary Stewart, blogging was the ideal way to call her own bluff. The Halifax singer-songwriter was wrapped up in interviews for her self-titled EP last year when she found herself telling people she practiced up to five hours a day. "I told people I write a song a day anyway—-and then I wondered if I actually did," she says. That's when her "A Song A Day" blog came into being.
Stewart, who works in customer service at the airport, started rising even earlier than usual and got into a daily routine of recording a short song before heading to work in the pre-dawn hours. That was last April. As of this writing, she's now at song 318.
Stewart is also as spontaneous as she is prolific; each song is recorded on video in a single take. "I had to give myself the one-take rule in the beginning," she says. "I'm a little OCD. I knew if I didn't set the rule, I wouldn't leave my house for a year."
The blog has impressed fellow bloggers and musicians—-Stewart gets emails with suggestions and praise—-and she says it's all had a considerable impact on her songwriting process. She's hoping to re-work some of the pieces for a future album.
"Songwriting is really emotional, but it's also really mechanical," she says. "I also wanted people who don't write songs themselves to hear how songs start. The goal is to start re-working the songs so people hear them as they grow."
This past May, Stewart's mother Emma Lee was told she had metastatic breast cancer. Stewart's blog has now also become a way to publicize events to raise funds for her mom's alternative treatments. The blog has become equally integral in helping Stewart cope. The July 7th entry is a particularly important song for Stewart and her mother. In a soft dark room, she sings, "You make all your plans, and I'll do my best to make sure they happen."
"I've spent more time thinking about my life and what I want out of my life, and trying to make the best of everything," she says. "I'm trying to put my energy in the best places to help my mom through this. And she notices that, too."
The next fundraiser for Emma Lee Stewart is happening at the Wooden Monkey on September 13. You can follow Stewart's songwriting progress at http://cupcakerecord-asongaday.blogspot.com.