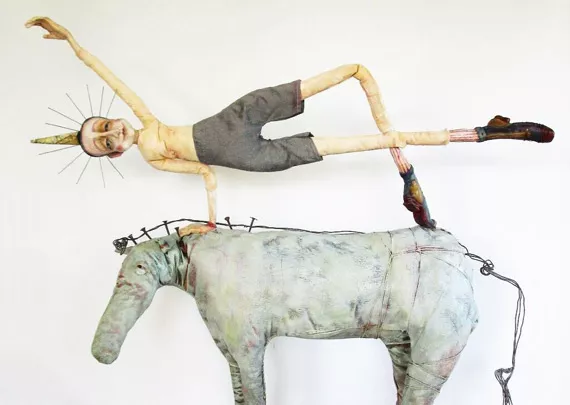 Kate Church is upstairs in her studio near Mahone Bay, holding one of the first dolls she ever created. The self-described "figurative artist" and maker of "sculptural puppetry" has kept the figure, of a clown named Wally, over the 25 years she's been making puppets and dolls. "He's all dusty and he's actually sitting on a bathtub leg and he's just the piece that didn't sell," she says through a crackling phone connection. "He was kind of my favourite. He has no stuffing. He probably got finished for a show and then got taken apart, so that I don't have that conflict"—about trying to sell him. "He just sits there waiting."
Luckily for fans of Church's work, not all of her puppets and dolls are resting on a shelf. Many have found status as collectors' items, grouped in people's homes. Some of her pieces have even been included in performances by Cirque Du Soleil.
And now, much to Church's delight, dozens of her animated, quirky creations have been rounded up for a career-spanning retrospective show at the Mary E. Black Gallery. Balance Point: 20 Years of Creative Process opens Friday, July 15 and, until August 28, the gallery space is being overrun with the thin legs and soulful eyes of Church's creations.
Church says she never imagined compiling such a body of work when she started making pieces. When it all began, she was working at Mermaid Theatre in Windsor, making props.
"These guys totally inspired me—that they could walk out there with an inanimate head on a stick and the kids would just go with them on this journey. One of the women I worked with said 'We have to make a doll,' and so I made the doll that changed my life," she recalls.
Soon, stitching dolls became Church's escape during the difficulties of a marriage separation.
"I did it for the fun of doing it. I was alone, so I had my evenings. I was sort of naive and just thought I could figure it out. I sewed everything, including my finger once," she says with a laugh.
Friends started asking if they could buy her pieces, and Church began selling her work in many Nova Scotian shops. "The work just took care of me. My career has been given to me in a lot of ways, and I didn't fight it—I just went with it. And before I knew it, this is what I was doing for a living and it was paying the bills."
But if a retrospective show makes it sound like Church's crafting days are done, think again. Church says "the beauty of aging" motivates her to keep creating. "I'm getting to go backwards now. As you become an older person, if you get it at all, you go back. You get to use your memories and you get to use your emotions. It's really cool. In a sense you get to become a child again. You just don't know it's coming, but that's the best part of life, if you stay open to it."
Before hanging up, I ask Church what her creative processes are. She replies quickly: "In my life or in my work?" For her, the two are as tightly woven as the hairs on her dolls' heads.
---
Balance Point: 20 Years of Artistic Process
July 15-August 28
Mary E. Black Gallery, 1061 Marginal Road
free