And then the glare of public attention around the whole Masuma Khan discipline case got to be too much for Dalhousie University.
The school's vice provost, Arig al Shaibah, this afternoon posted an "Important message" formally announcing that the complaint against Khan has been withdrawn. The full
message is here
, but the bottom line comes down to what al Shaibah calls "three critical reasons."
Dal.ca
Dalhousie vice-provost Arig al Shaibah.
To paraphrase those reasons: First, given the way the Student Code of Conduct is written, it has a hard time supporting both one person's freedom of speech and another person's ability to take offence to that speech. Second, on further consideration Dal realized a formal Senate discipline hearing probably isn't the best way to deal with an assertive Facebook post. And third, the social media hate that's been unleashed by putting Khan through a
discipline
process makes a mockery of the university's claims that the process is important to maintain an atmosphere of respect and safety.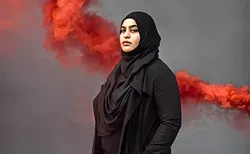 MEGHAN TANSEY WHITTON
Masuma Khan from a Coast cover shoot in August.
"I'm happy with the outcome and I think my client is also pleased they were able to make what we think was the right call," says Khan's lawyer, Nasha Nijhawan. "But I still really do feel that this decision should have been made by the vice-provost at the stage that she conducted a full investigation into the complaint. We provided her with all of this information and context and explanation that we eventually took to the media. That could have avoided a lot of additional harm to Masuma."
Nijhawan says Dal let her know about the decision by email, just minutes before the public memo went out. "My client and I were not included in any discussions with the university prior to the decision to withdraw the referral. There's been no personal contact with her from the administration, or even
through
me in terms of including her in that conversation or expressing any concern for her wellbeing.
While the university would doubtless like nothing more than for this whole episode to disappear, Nijhawan isn't there yet. She may never be.
"We'll be exploring options on how Masuma can hold the university accountable for the harm that they've caused her to date by the approach that they've taken. That matter could have been completely settled if they had talked to us about it, but just as before, they're not treating her respectfully."