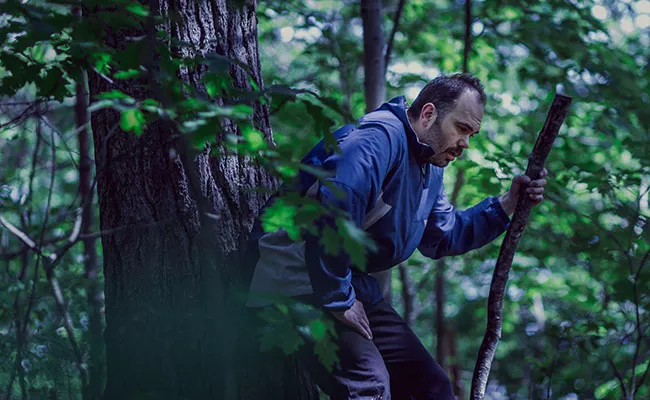 Samm Fisher
Labelle is lost—or maybe he isn't—in The Woodcutter.
The Woodcutter July 11-15, 8pm (and 2pm Sat-Sun) The Bus Stop Theatre 2203 Gottingen Street $20/$15 (students/seniors/unwaged) tickethalifax.com
The premise of The Woodcutter is simple: A man, alone in the woods. "You're not supposed to know whether he's on the run or just hiking," says director Jacob Planinc. "Is he a man who's lost in the woods, or is he a man who wants to be lost."
Planinc came across Don Hannah's piece when the Nova Scotia-based playwright visited Mount Allison University years back. "People started passing his scripts around in the theatre department," he says, noting an enthusiastic consensus for The Woodcuttter. "Nobody could understand why it hadn't been done before. It'd been sitting on the back burner for me until I found the right person."
That person, for this week's production at the Bus Stop is Sébastien Labelle. "He's a fantastic performer, we're really privileged to work with him," says Planinc, who runs Matchstick Theatre with Chelsea Dickie and Alex Mills. The Bus Stop will be transformed into an immersive space meant to evoke the forest—the theatre's capacity has been reduced by half, to 36 seats, to accommodate Wesley Babcock's set design.
"People are going to be very surprised when they see what we've done with the Bus Stop," says Planinc. "It's a thrust on three sides with the clearing in the centre. We have a lot of stuff to make it look like the heart of the woods. We are playing with temperature. We're using a lot of organic materials."
The young company's goal is to produce underseen Canadian work and has previously put up plays by Catherine Banks and Daniel MacIvor. The Woodcutter fits that mandate perfectly. "Matchstick is attempting to revitalize what we believe to be the best Canadian plays," says Planinc. "There are a lot of companies in the city producing new Canadian work. We're trying to dig through and present ones Halifax hasn't seen before. This is one audiences will have never seen."