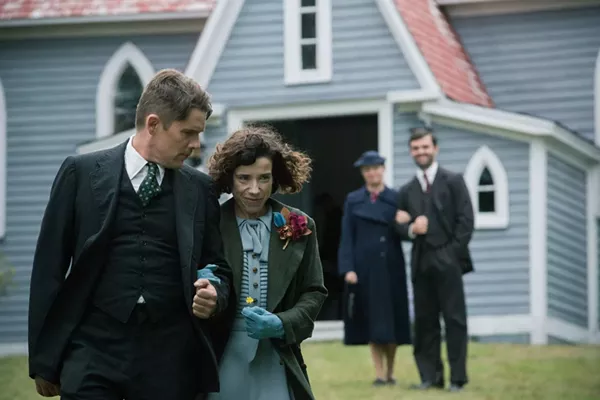 via IMDB
Sally Hawkins portrays Maud Lewis, while Ethan Hawke plays her (terrible, abusive) husband.
Maudie
, a very Nova Scotia story, was very clearly shot in
Newfoundland. Only Nova Scotians will care about this. (The production moved when the film tax credit was mangled.) Maud Lewis (Sally Hawkins, excellent) lived an awful life made even worse by a terrible man (Ethan Hawke, of course), as
Maudie
depicts while also curiously wanting you to be into their "special" love story, quirky in that abusive way of the time. And she painted, never making more than $10 a piece—think about that while guessing how many thousands that recently uncovered piece will get after it visits the AGNS this week—as her body deteriorated. It is grim and sad. Director Aisling Walsh and screenwriter Sherry White give Lewis the standard biopic treatment—monumental artist despite much tragedy. (Unlike most men depicted this way, Lewis is not also a monster.) She sure lives with one though. Even wrongly located it's beautifully shot, even if the painting often feels incidental.