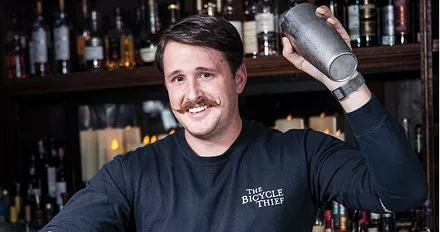 photo by RIley Smith
See Jeffrey Van Horne work some magic on Thursday
In case you forgot, the Savour Food and Wine Festival—the month-long celebration of all things tasty— is still in full swing, and this week it's debuting a brand new event dedicated to the art of mixology. And it is an art alright. Thursday brings Imbibe: A Cocktail Story (Schooner Room, Casino Nova Scotia, 7pm) an event that'll make you think differently about the next gin and tonic you pound back. Gathering the best cocktail artists in town, Imbibe provides an environment for them to show off their skills, share their tricks and tips and help you (you being budding bartenders, or plain ol' booze lovers) learn by example what it takes to make a serious cocktail.
Along with loads o' dranks, there'll be snacks, live jazz and special guests mix master (er, master mixologist) Jeremy Parsons, who's one of the best in North America, and Clinton Pattemore, brand ambassador for Canada Dry Mott's Clamato. Plus over 20 local mixologists and over 20 liqueurs to sample from the NSLC. See the full list of exhibitors, and get your tickets here.