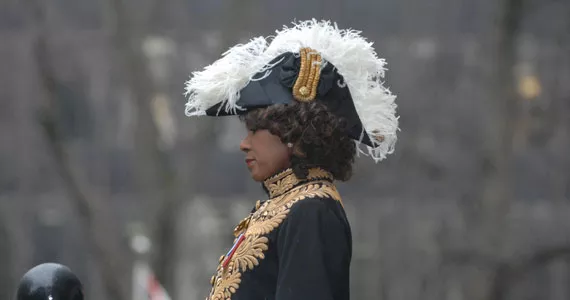 The Dress: Mayann Francis and Gary Markle in conversation Thursday, Sept. 29 The Dress: Mayann Francis and the Call to Serve To November 27 Dalhousie Art Gallery, 6101 University Avenue free
Sitting on a black bench, surrounded by accent lighting that seems to add extra drama to what she's saying, Mayann Francis is tackling big topics. Here, in the Dalhousie Art Gallery, a quiet space tucked away underneath the Rebecca Cohn auditorium, she smiles frequently and looks at me with a gaze that's too friendly to be called piercing but carries the same weight. Over her shoulder, light-washed dress forms sport the skirt suits worn during her days as Nova Scotia's 31st lieutenant governor. They are painstakingly constructed: A closer look reveals dozens of flat seams, hand stitching and other hallmarks of old-school tailoring.
"When I was offered to be the lieutenant governor, that, I knew, was going to be a life-changing experience. And then I had to start thinking about the role—not just the ceremonial, and not just the constitutional—but the total role, including the dress," Francis explains. "The dress was something that was very important to me because it identifies the role in many respects."
Even though half of the gallery space is bedecked in the custom-made wardrobe she wore during her time in office from 2006-12, this exhibition, The Dress: Mayann Francis and the Call to Serve, is about more than just clothes. Hanging amongst the skirt suits and sun hats, between the evening gowns and heels (almost all of which were crafted by Etalier Salwa, the brand name of local designer Salwa Majaess), are topics swirling around the more philosophical side of fashion and the reasons we dress ourselves.
These reasons are something exhibit co-curator Gary Markle, a fashion instructor at NSCAD and friend of Francis', explains. "I think Mayann felt very strongly that they needed to be shared with the public because for her, the garments belong to the public even though in large parts she paid for them," he says.
It's a sentiment Francis echoes: "I remember when I travelled in Europe having seen textile museums, clothing of historical figures, and I just assumed we had something here. And because I am a historical figure, the first black lieutenant governor, I thought that maybe we should have [this clothing displayed] somewhere."
A lack of a textile archive in Nova Scotia means a lack of touchable history. The Dress is a way to address that void, while also broaching some of the topics on Francis' mind around her position and wardrobe. "I had to get it right, that's all there was to it. Don't forget I was the very first African Nova Scotian to be lieutenant governor, and only the second woman in the history of this province. I thought about things from that perspective, ensuring that I selected a positive look," she says. "Well, it's hard to describe so let's put it this way: When you're the first, you want to make sure that you're almost perfect, because that's the bottom line. So you keep that in mind, in not only your performance but also how you present yourself.
"It was also about the politics behind the selection of the type of dress you'd wear. I'm bringing in the whole issue of gender, class and race and how that affects the whole thought process about the garment," Francis says, before adding that tonight—Thursday, September 29—she'll be doing just that, giving a lecture at on the topics in the same space we're conversing in. "You'll have to come and hear it," she says, laughing, refusing to offer hints. "I'm not going to tell you."
Soon, we're walking around the gallery as Francis explains the details of each outfit, like how a dark floral day dress was what she wore to a garden party, or that a plaid evening gown is actually done in Nova Scotia tartan.
When I ask which of the trumpet-cut, lace-swathed formal gowns on display is her favourite, she takes her time before committing to an answer. "It'd have to be this one," she says, pointing to a pink floor-length stunner with hand-sewn sequin appliqués. "I just love how the little details on it look like flowers."
It's worth noting that Francis' hesitation was warranted, as the rose-coloured dress sits amid some pretty stiff competition—notably a 1940s-inspired navy skirt suit and matching fascinator, her ode to Nova Scotian human rights pioneer Viola Desmond, and the bisque coloured, bead-trimmed gown she wore 10 years ago during her installation ceremony as lieutenant governor.
The gown's over-piece, a floor-skimming silk shell with an exaggerated collar, was originally a purple suit jacket. The jacket was deconstructed when a fit of vision helped Francis and her designer, Salwa Majaess, see the item had the perfect amount of shape to contrast the flow-y dress, but needed to be a different colour.
"The coat was transformed," says Francis. "The inside of the coat as you see it now is a beige-y, taupe colour. It was purple and because I planned to wear it again, I wanted to transition the coat into something else."
And if it feels like all the outfits here have a story, the designer behind almost every look has an even bigger one. "The dress was something that was very important to me because it identifies the role in many respects. I thought 'Oh, I'm going to have to get things made,' so I called a friend of mine and asked 'Who makes clothing that would be in keeping up what I had in mind?' and she said, 'There's only one person, Etalier Salwa.'"
So that's who Francis called.
Calling Salwa Majaess is a process. When I finally do reach the designer behind most of Francis' looks (all the notable ones, it seems), there's an audible busy-ness on the line. I hold as another phone rings and she says goodbye to a client in the studio. Soon, we've set a mid-morning appointment to talk about her time with Francis. "I can hardly remember what the dresses look like now, dear, but we'll see," she says by way of ending the call.
That morning, I learn that the quiet house Majaess works from, frozen in time with pastel walls, a plastic-covered table and magazines no more recent than 2011, is, in a way, built around phone calls. "It all started for me when Mr. MacKeen called"—that's 1963-68 LG Henry Poole MacKeen—"looking for a dress to be made for his wife, for a ball where she was to open the dancing," Majaess recalls. Since then, she's been quietly crafting gowns for the wives of politicians and lieutenant governors from a living room lined with sewing machines.
"I don't need any advertising," Majaess says, insisting she's happy behind the scenes, stitching. Growing up in Lebanon, she made dresses for her dolls, a practice the nuns at her Catholic school encouraged. Soon, a scholarship brought her to a school in Halifax, where she was one of the few people in this part of the country who could create patterns. She remembers a job offer in Montreal, to design patterns for a major company, which she declined: "I don't need all that, I wanted to stay here."
Speaking casually of working with fabric so delicate it must be sewn by hand ("a machine would leave marks"), it soon becomes clear what Markle means when he describes Majaess: "That kind of relationship is historical, in regards to a personage and the person who dresses them and what that role is. It's a supporting role but it's a really crucial one. A person who is making the garment is, in many ways, making psychic armour for the person. They're magical. At their best, they can really help people do their job. Salwa is one of those people."
"Working with Mayann was like working with a friend," Majaess says, leaning in as though about to tell a secret. And though she doesn't remember all the dresses now, she does share one anecdote, summing up the intimate relationship between dress maker and dress wearer, and the dynamic Markle describes.
"Once, Mayann was getting ready for an event and she wore the pink dress," he says. "There is a mark [on her décolleté] she likes to cover. She put on the gown, was about to walk out, and said 'Salwa! Salwa! It shows! What will we do?' So I made all kinds of little pink sparkles on the dress to cover it and on the shoes, too, so they matched."
No wonder the pink dress was one of Francis' favourites.
As both Francis and Markle explain, typically textile archives act as a way to permeate into the quotidian of the past: A suit jacket is tangible evidence of an important speech, a marker of the time and place the speech took place, and a way to remember that even those talked about in museums have to think about what to wear. They wanted to "talk about these garments in regards to their values, as cultural matter, and create a collection of garments that's accessible to the public, kind of like an archive of our material culture," adds Markle.
To see, then, the cloth collaborations of a Lebanese-Canadian designer and an African Nova Scotian lieutenant governor is to see something bigger than a study in classical tailoring. It's an archive of textiles, yes, and also an archive of surpassing the expectations of stereotypes, one three-buttoned jacket at a time.
Or, as Francis puts it, "I had someone call me the other day after visiting the installation. She saw it as hope, and was just so moved she took the time to call me. She said, 'I just want to thank you for sharing this with us.'"
Morgan Mullin is a journalist and listings editor at The Coast. She is deathly afraid of takeoff but always falls asleep before the plane leaves the ground. Prior claims to fame include that time at summer camp when she won an apple pie-eating contest. She still can't touch the stuff to this day.