I don't know if I should laugh
or cry
: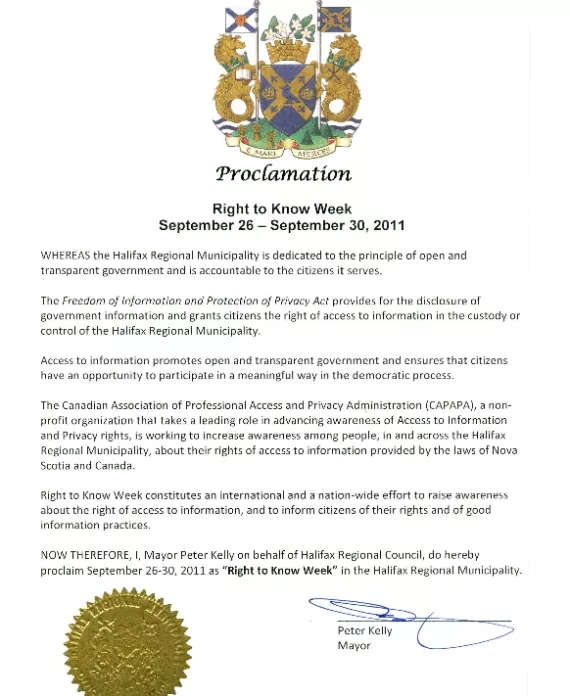 That's right: because "Halifax Regional Municipality is dedicated to the principle of open and transparent government and is accountable to the citizens it serves," mayor Peter Kelly has proclaimed next week "Right to Know Week." That of course is the very same mayor Peter Kelly who is so dedicated to "open government" that he approved $5.4 million in secret loans to concert promoter Harold MacKay; the very same mayor Peter Kelly who is so enamoured with "transparent government" that he kept knowledge of the loans from not just the public but also from city council; the very same mayor Peter Kelly who so loves to be "accountable to the citizens" that once knowledge of the illegal loans and loss of $360,000 became public, he refused to resign in disgrace.
And yes, the city celebrating "Right to Know Week" is the very same city that regularly stretches the legal basis for secret government meetings to include anything that might cause public concern, such that council meets in secret nearly every week to discuss issues like which councillor will sit on which committee; the very same city that refuses to make public the terms of multi-year contracts with companies managing its recreation facilities; the very same city that won't allow reporters to talk to city employees unless the entire conversation is first approved, vetted and managed by the city's PR department.
I suppose it's telling that Right to Know Week is just five days long, Monday, September 26 through Friday, September 30. Evidently, the Right to Know takes weekends off, and presumably come Monday, October 3 we'll be right back to "Screw You, It's None Of Your Business 51 Weeks."
Still, the celebratory spirit of Right to Know Week gives us the excuse to put the spotlight on the city's actual practice of "open and transparent government." Each day next week I will ask the city for some piece or pieces of information, and I'll report on the results in this space.
I have my own ideas for information to request, but readers' suggestions are most welcome. Please use the comments here, or post them to Twitter.
Tim Bousquet is at timb@thecoast.ca and @PDuffysGhost on Twitter.