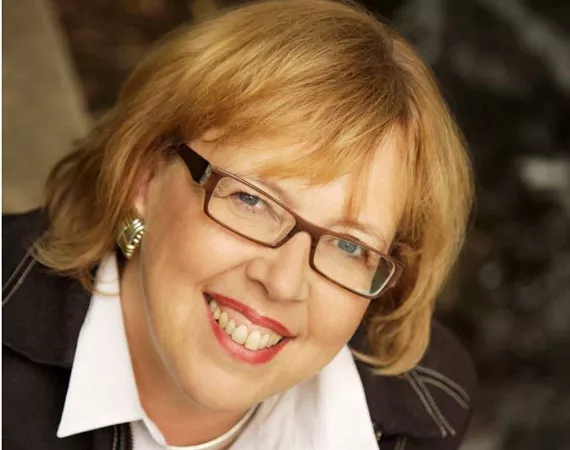 Elizabeth May will fly to Copenhagen tomorrow, and she knows what to expect. "I haven't attended every climate change conference but I've attended quite a few," she tells me. "They are always very intense."
As Green Party of Canada leader, May has access to all negotiations and plenaries, though the plenary rooms are often too full to accommodate everyone. May's connections in the European Green Party will also keep her busy attending their events.
The Green Party is amply represented in Copenhagen. May is particularly excited to hear from Brazilian Green Party leader Marina Silva, who quit her sweet Minister of Environment gig because she felt President Lula de Silva was failing to protect the Amazon. The day after she arrives May will present at the Global Greens Public Event, along with Nobel Laureate Wangari Maathai.
May is most looking forward to "working the corridors," she says. "At these conferences the lifeblood is the currency of good intelligence, which can take the form of good ideas for breaking logjams. You might hear about an idea in the corridor and spread the word because it needs support. The face-to-face networking is so important and so much more effective than technology."
She expects long sleepless nights of negotiations and alliance-building, fighting the odds "stacked against a positive conclusion." Yet she remains optimistic, after having seen positive outcomes from equally dire situations in the past, particularly with the creation of the Montreal Ozone Protocol. "People remember that being easy, but I can tell you it wasn't," she says.
And despite Prime Minister Stephen Harper's chronic resistance to action on climate change, May feels that faced with the world's leaders he will be forced to concede. "With other world leaders making it clear that Canada has to pull its weight something will give," she says. "Who knows what it takes to get to Harper, but Russia agreed to ratify Kyoto so it could get into the World Trade Organization."
And while she's been in or around politics most of her life, including a stint working for the Mulroney cabinet in the 80s, May says she's never seen an administration as centralized as the Harper government. "No one can act without Harper telling them to," she says. "His personal presence in Copenhagen is key. The Environment Minister's presence wouldn't matter."
May will be holding a send-off rally Thursday December 10, 7:30 pm, with meteorologist and author Richard Zurawski, at the Quality Inn Airport Hotel.