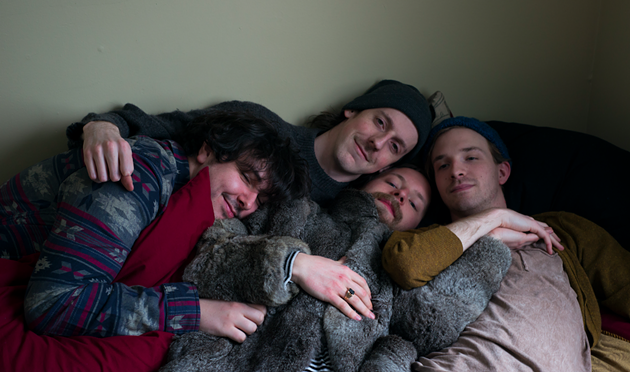 Since last July, Halifax's
Strongboy
has been releasing what they call "lazy pop jams" and playing here and there. Last week, the foursome released a new video for the track,
"Maybe,"
from the two-song EP of the same name. Between
Brett Jarrett
(vocals, guitar),
Seamus O'Neill
(drums),
Tyler Popwell
(guitar) and
Alex Sheppard
(bass), all Cape Bretoners, they've been self-recording (3/4 of the band have recording arts degrees) and making some very chill tracks in the vein of
Mac DeMarco
, which is a good thing. That dirtbag's influence will be felt for awhile.
"I had been writing music for years, playing with different groups but not doing much recording-wise," says Jarrett, who started
Strongboy
with his roommate Seamus last summer. "Eventually we got our friend Tyler to start playing guitar, tracking our first song in his kitchen. Alex was still in London, Ontario finishing at the studio, so we sent him the song to record bass, mix it and send it back in about three days," which he did. "What a nice guy. Now we're a nice, handsome family."
Strongboy
released the track
"Hangin' Around"
last July before the
Maybe
EP, and while it feels familiar in terms of tone, Jarret's voice sets it apart and lifts it up to something a bit more alternative than jazzy. Still pop and fresh. "It feels so good to feel anything," he sings.
True
.
Edited by
Sarah MacPhee
, the video for "Maybe" features vintage ice cream scoops and shots of a chocolate factory, a nice complement to the sweetness of their songs. Check it out below.
Follow
Strongboy on Facebook
to keep up on their next Halifax show.