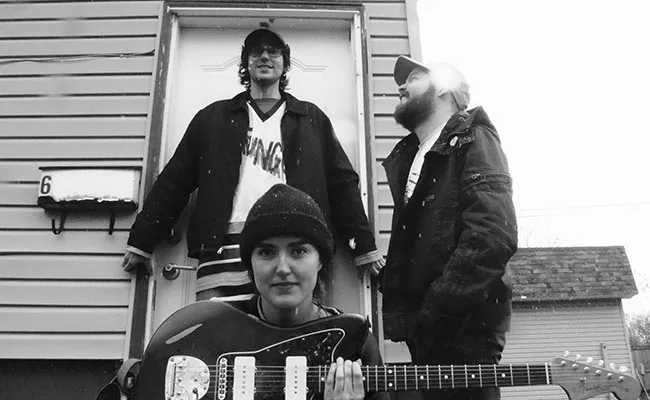 Fungus EP release w/No, It's Fine., Dimension Boys, Stand Back Friday, July 6, 10pm Gus' Pub, 2605 Agricola Street $6/$8
"She been around the block / she don't like to talk about it," sings Vivika Ballard on "Fungus Theme," a swamp-country stomper from her band's debut EP, D'well, out Friday. Which block she's talking about is open to interpretation, but Ballard will happily discuss her unlikely trajectory from ballet dancer to leader of Fungus, a band she's dubbed "bog rock."
Ballard began dancing at five and by age 11 was auditioning for the Royal Winnipeg Ballet, followed by seven years of intense training. "That idea is romanticized a bit at these schools. That's the story—you're a young girl and you get wrapped up in it," she says. "That film Black Swan did kind of capture a lot of the ideas. It's a lot of pressure for a developing person."
In the end, she walked away. "Looking back, I can see it was a very one-dimensional upbringing," she says. "You don't really understand the sacrifice you're making at the age of 11. As an adult, I didn't want it, I wasn't competitive. I took it very seriously, I saw it as an opportunity, I wanted it to work out. But when you're young you're a little blind, you don't realize this may not be the golden ticket. I really loved it at the time."
Ballard has always written, casually and otherwise—"I went to King's for journalism for six weeks"—and when she came back to Nova Scotia from Winnipeg she found herself tending bar. "I was working on that seedy strip of bars on Portland Street in Dartmouth. It was a pretty big 180," she says, laughing. "And there was a scene at Jacob's Lounge—The Cannisters and The Scoop Outs would play there. I really liked the energy of the shows. I'd never even really heard punk rock before, it was a huge eye-opener."
Inspired, she began crafting the brand of songs that comprise the five tracks of D'well, quick rippers that cross the '90s with down-and-dirty country. "I am a huge fan of Nirvana and Hole, The Meat Puppets, Butthole Surfers, Talking Heads," says Ballard. "There's a real range of influences and ultimately I don't want it to sound like anything. My early punk influences of Portland Street are in there too."
The EP was recorded in the trio's house and mixed by Designosaur's AJ Boutilier. The lyrics are sharp and direct—"the ground hit hard," for instance—and Ballard's voice, sounding like something from the Kill Rock Stars catalogue, is as dark as the supporting music, though certainly not lacking in energy.
"There's a huge emotional package that music is a great cathartic tool for," says Ballard. "There's a lot of shame wrapped up in there: Why couldn't I make this happen, did my parents make the right choice? And all the while I've lived a privileged upbringing, why make a big deal out of it?
"It's a really structured world, the ballet world," she continues "I had a lot of opportunity but there was a piece where I didn't get what I wanted or what I thought I deserved. It's nice to be able to play in a rock band and not have to be trapped by structure. It's the opposite—it's a vessel of chaos."