"I've never played in a church," says Carmen Townsend, with her bright red shaggy bangs falling in her face. The Cape Bretoner is all charm. Her vocal play is reminiscent of Rebekah Higgs meets Jenn Grant, but her sound is entirely her own. Townsend takes listeners on a journey through the tumbling acrobats of her voice.
Despite dropping her guitar, Townsend's on-stage presence is incredibly humble and adorable. She's girlish, yet forthright. When someone at the back of St. Patrick's Church gives her the five-minute mark she says, "Okay, I've got five minutes," to the audience instead of being discrete.
"You should know by now there is nothing discreet about me."
After Townsend's set she rushed off to perform at the Paragon Theatre with the Tom Fun Orchestra and Bahamas filled the church with song.
As a Torontonian, Bahamas may seem like a strange name for Afie Jurvanen's solo project, though somehow it suits his airy acoustic material. Jurvanen is a seasoned performer, as he toured extensively with Feist, Great Lake Swimmers, The Stills, Howie Beck, Amy Millan, Jason Collett, Hayden and others.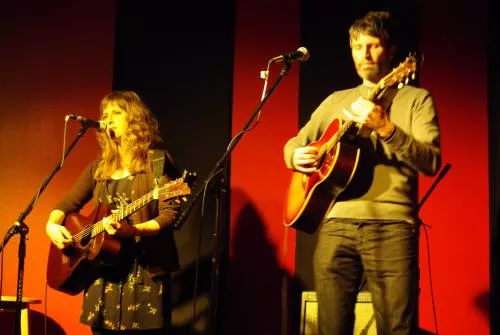 Two songs into his set I split to brave the cold (winter decided to arrive after all) and catch The Abramson Singers set at the Company House. I spent the afternoon listening to their myspace and slightly obsessing over their song, "Take a Camera," which led to confusion when only two musicians were found on the corner stage.
Part of the band stayed home in Vancouver, but the duo opted to take the train across the country, performing all the way. Their "Trucker's Prayer," is a lulaby-like homage to hitchhikers and truck driver's who drive all night.
Across the street at the Bus Stop Theatre Erin Costelo filled the black-painted room with colour. She performed a selection from her stunning album, Fire and Fuss. While over at Fred Salon, Whet Bar and Cafe headliners The Hupman Brothers couldn't make so festival organizer Amelia Curran played an impromptu all-request set.
Back at the CoHo Melissa McClelland, decked out in fishnet stockings, red heels and a simple black number, upped the ante with her sexy cabaret crooning. Her hubby Luke Doucet accompanied her on vocals and guitar. One of the bonuses of their matrimony must be always having a built-in band mate.
It's interesting to see their shows separately, as they've perfected the art of beautifully accenting one another's music. While Doucet's fingertips crawl up and down the neck of the vintage guitar, McClelland's voice is almost other-wordly in calibre.
There is a gritty poeticism in her fairy tale gone-askew narratives, as her lyrics stumble down the rabbit hole where princess lose their princes, alcohol clouds judgements but there is always a sense of hope and lingering romanticism.
Afterwards Halifax's eclectic rhythm-driven act, Zumbini started their set on the corner stage of the Company House, drums and sound-makers in tow, and made their way across the snowy Gottingen strip to inspire a frenetic dance party at the Bus Stop Theatre. All hail Zumbini!