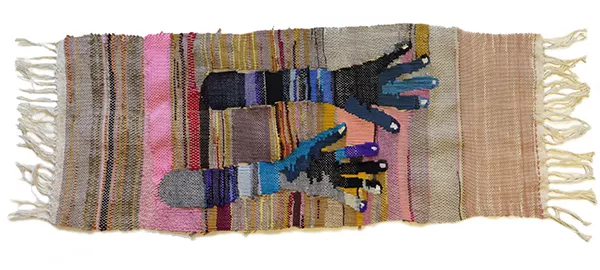 Merle Harley, artist in residence
To March 3
Centre for Craft
1061 Marginal Road, suite 140
Tue-Fri 9am-5pm, Sat 11am-4pm
"Craft LAIR" is a name that feels both cozy and a little ominous at once. This name for the Centre for Craft's artist in resident space is fitting for its current inhabitant, artist Merle Harley, who has filled the small gallery with soft textiles composed of some more unsettling elements: snakes, bugs and body parts.
The walls of the lair are hung with tapestries and quilts, and a large weaving loom greets visitors as they enter through the door. Harley sits either at the loom or at their desk, working away at a weaving or fiddling with something in the piles of fabric, and welcomes visitors into their workspace.
Many of the pieces on display are from Harley's recent body of work, which came out of interviews conducted with queer people living in rural communities in Nova Scotia. Some of these stories were touching—often connected to a love of the land and of gardening—but many were difficult to hear, particularly those from young trans people, says Harley. Rather than creating a portrait of each interviewee, Harley let the recordings of the interviews play while they worked at the loom, creating intuitive weavings while they listened.
At the rear of the gallery is hung such a tapestry. Pink roses wind along a cornflower blue background, while in the centre a grid made of loosely woven material droops under the weight of ceramic body parts that are woven into it—a torso, foot, shoulders, etcetera. On another wall a larger quilt mirrors this, its squares dipping in the middle like it too is sagging under some invisible weight.
In another, insects crawl across the ground in front of two disembodied feet and legs, while in a larger weaving snakes wriggle across a blue background (water snakes in a lake). Harley tells a story about themself and a friend as young queers in Ontario walking around with garter snakes in their pockets. Harley explains that they loved snakes, though the people they met on their walks tended not to. But as so often in queer art, the line between beauty and the abject is a thin one.