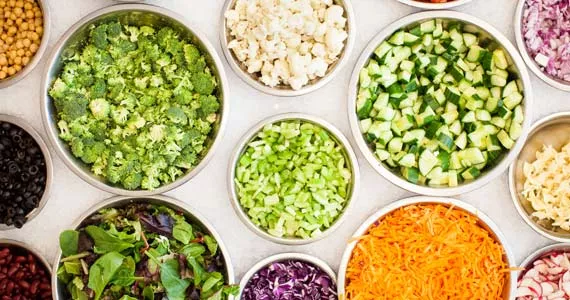 Meghan Tansey Whitton
The beautiful beginnings of Midday Bistro's stellar salad.
The Midday Bistro is a simple, tiny restaurant, a hole in the wall on Portland Street, with only a simple, tiny sign that hangs just outside, over the door, marking the spot. The Midday looks like it's been there forever. The devotion of the day-to-day regulars also suggests a long history, but in reality it's only a couple of years old.
A long counter with a salad bar and sandwich prep station runs almost the entire length of the restaurant. A display rack features plump Staff of Life samosas along with cling-wrapped bowls of egg salad and chicken salad. A peek through a door to the back suggests a more expansive prep area, but it really is just a tiny place.
There are usually three people behind the counter, sharing duties in a way that seems like finishing each other's sentences. Two are always tucked in folding together sandwiches and whipping up salads, while the third may be prepping more food in the kitchen, ringing people through at the cash register or, on the luckiest of days, grilling fat, house-made sausage. On those days, the wind will catch the scent of the barbecue and wind its way through Prince and King Streets, maybe even making its way up to that nightmare of an intersection at Pleasant Street.
Day to day, though, the menu is pretty bare-bones: sandwiches, soup and salad. There are daily specials, too: taco-in-a-bag--- a bag of Doritos flayed and filled with seasoned ground meat, lettuce, and onions, along with sour cream and salsa---on Tuesdays and pulled pork on Thursdays. Everything is in the $6-to-$10 range. There's not a lot, but at the same time you can't ask for more. The meat---roast beef, chicken and ham---is all real, nothing processed. Soups and pulled pork all taste mom-made. Vegetables are always crisp and fresh.
I first discovered the Midday last summer. I made the mistake on that first visit of ordering both a sandwich and a small salad. I basically ordered enough for three people to eat. The salads are incredibly generous, and the sandwiches have equally hearty portions, plated with a pile of carrots and pickles that are enough to fill any gaps.
The salad bar is the main attraction. With your choice of mesclun greens, baby spinach or romaine, you can construct a salad that is sweet, savoury and even a little bit nutty or tart, with options like finely sliced radishes, cauliflower, cucumber, dried cranberries, sunflower seeds, chickpeas and even dill pickle. The draw within the draw is the house-made poppyseed dressing. It's sweet, oniony and slightly earthy. It's so good, that on the very rare occasion that it's not available, I can almost feel a tantrum coming on.
On days where salads seem like too healthy a choice, the sweet, slightly smoky pulled pork sandwich, piled on a thick ciabatta bun, makes for a very satisfying meal, as does the hearty chicken club wrap. Or, on days where I am lucky enough to stumble upon a tray of puffy, warm homemade cinnamon rolls, suddenly the salad seems satisfying with one sweet addition.
The one disappointing change at the Midday over the past year has likely been one of either convenience or budget, but it's still a drag: they made a switch from Kraft paper lunch boxes to Styrofoam shells. Nothing tastes quite as good out of Styrofoam. But, that said, those salads are still pretty damn fantastic.
Restaurants like the Midday are real gems, an important part of the backbone of any business community. Cheap, quick lunches served by friendly faces really do help the day go by a little quicker and make your day a little brighter. They say that good things come in small packages, and the Midday exceeds good. It's great.
---
Midday Bistro, 55 Portland Street, Mon-Fri, 8am-3pm, 406-4100