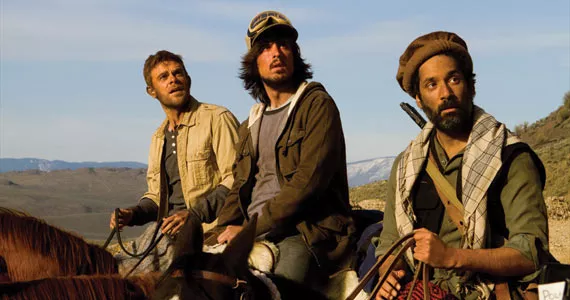 Mike Clattenburg is not the kind of guy who seems likely to forget his roots. And that's important, because the director of one of Canada's most beloved comic creations, Trailer Park Boys, is primed for a career ascendance. For the first time, one of his films, the war drama-comedy Afghan Luke, will be screened at the Toronto International Film Festival.
The Toronto event is one of the top two or three fests in the world in terms of size and influence. And a solid number two in Clattenburg's ranking system.
"Being in TIFF is an incredible thrill, but the festival with the most meaning for me is the Atlantic Film Festival, because they really nurtured me and without them I don't think I would have ever made Trailer Park Boys," says Clattenburg over a coffee in downtown Halifax. "It's my hometown, so it's the most meaningful festival."
The admiration is clearly mutual, as Afghan Luke occupies the high-profile role of festival closer. The film stars American actor Nick Stahl (In The Bedroom, Sin City) as a Canadian war correspondent who returns to Afghanistan after his editor kills a story about offences by Canadian soldiers. In his journey, Luke crosses paths with a rival journalist and comes to understand that truth is a nebulous concept in the midst of guns, bombs and confusion.
Clattenburg describes the film as a drama with comedic elements, a significant departure from the inspired insanity of Trailer Park Boys. This change of pace, he says, is a big reason why he chose to do the project.
"There was authority in the voice of the script"---written by Douglas Bell, Patrick Graham and Clattenburg's TPB comrade Barrie Dunn---"and it was dramatic, which was something that appealed to me," Clattenburg says. "Eighty percent dramatic and 20 percent comedic, and I'm used to the inverse on Trailer Park. It was nice to do something entirely different." The script's authority comes in large part from being loosely based on war reporter (and King's College grad) Graham's experiences.
According to Clattenburg, the film's jokes are as essential to its realism as its drama.
"The main through-line is this internal struggle with Luke, who's wondering why he's actually there. Is he there for his own ambition or is he there to actually help, to make a difference," Clattenburg says. "It's very rich in drama but we also wanted some levity, because that's how those cats survive over there."
Clattenburg is very clear that Afghan Luke doesn't render judgement on Canada's military involvement in Afghanistan in black and white terms. "I would say fuckin' grey," he says. But the film does offer important insights about life in the conflict-ridden country, which, as one character points out, is as afflicted by poor sanitation as it is by violence.
"One plumber would do more good than 100 Special Forces," says Clattenburg.
Such a sober message isn't what people expect from Clattenburg, who's better known for being, in his own words, "a lifetime explorer of the depths of foolishness." Which is exactly why the filmmaker will find it so meaningful if that message resonates with hometown audiences.