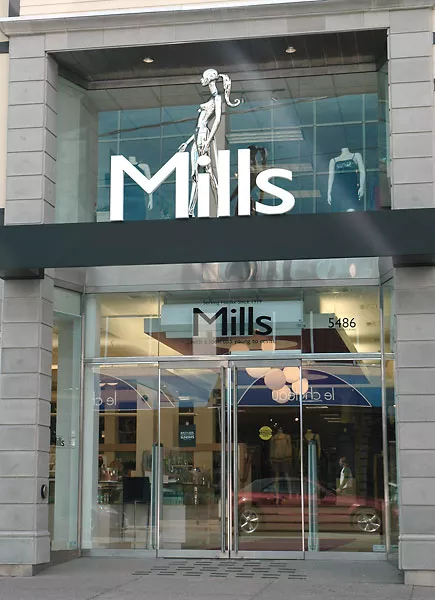 We received the following press release late last night:
Four local women to buy Mills department store
Retail icon will relocate to Spring Garden Place in early 2013

HALIFAX, NS (October 10, 2012) – Four professional women with a shared passion for style will purchase the iconic Mills department store on Spring Garden Road – Atlantic Canada's premiere shopping destination – from owner Mickey MacDonald's Micco Companies.

Three of the purchasers – Lisa Gallivan, Candace Thomas and Deanne MacLeod – are partners in the Halifax office of Stewart McKelvey, Atlantic Canada's largest law firm. Rounding out the team is Amherst-raised Katharine Perry. A physiotherapist, Kath has built a successful management career in the healthcare and insurance industries.

"Some of us grew up with Mills as part of our lives. We've all been customers for years, and then discovered that, one day, we each wanted to have our own fashion boutique," said Gallivan. "Recently the opportunity to purchase Mills presented itself. It seemed like the planets aligned to make this a reality, so we jumped at the chance. Now we're set to take Mills to the next level."

The purchase transaction is expected to be complete on October 14th, 2012.

Evolving Mills toward the best fit with Halifax and Atlantic Canada

Gallivan added that as owner-customers, she and her co-owners have raised their expectations for the Mills shopping experience. This means the right product lines, support and advice will be in place so each customer can find, explore and celebrate her unique style – and have a wonderful experience doing so.

These expectations are supported by the strong pool of skills, experience and interests that the partners bring to the table – from merchandising, retail operations and customer experience, to business strategy, law, management accounting and marketing. Forming an ownership team allows them the flexibility to continue their current careers in addition to sharing their new responsibilities at Mills.

MacDonald recognizes these strengths and is pleased the new owners plan to build on the Mills brand.

"While I originally bought the store for real estate, I take comfort in passing the Mills torch to this incredible team of women," said MacDonald.

"In the five years we owned Mills, we invested, made some changes and did fairly well as a business. But these ladies share a passion and talent for fashion that I don't have, and they have the diverse business smarts and experience to pull it off. Mills, its staff and customers are in great hands."

Since 1919, Mills has brought high-quality Canadian and internationally designed clothing, accessories and beauty products to Atlantic Canadian women, and has helped generations look their best while exploring and enjoying their own style.

Recognizing the importance of a strong downtown core to a healthy local economy, the new owners have retained the existing sales staff, including general manager Audrey Parker, and will relocate Mills to Spring Garden Place in early 2013, where they will be occupying the spaces vacated by Roots and Thornbloom.

"Our vision is to raise the bar for the shopping experience in Atlantic Canada, and that requires the right products, continuous staff training and a relocation to secure the right floor plan and more prime window and floor space on Spring Garden Road," said Gallivan.

The owners and general manager are working with a well-respected retail consultant to ensure they have the right fashion mix and presentation in the store; and with suppliers and staff to ensure they perform above and beyond customer expectations.

A regional destination for high-quality brands that look great and last

"Atlantic Canadian women don't have to wait for their next trip to get the perfect outfit or accessory from a top designer," said Gallivan.

"We will expand Mills' reputation as a regional destination for high-quality national and international brands that look great and last, and where customers expect and get the most-amazing fashion-shopping experience this side of Toronto, Montreal and New York."

# # #
About Mills

Mills was founded by brothers Hugh and Willet Mills in 1919, and has been locally owned and operated ever since. Located in Halifax's busy Spring Garden Road shopping district, Mills is Atlantic Canada's fashion-shopping destination, and continues to be an exquisite boutique offering the latest in European and North American fashion, designer accessories, exclusive beauty and fragrances for women. Mills will soon be owned and operated by four devoted customers (through their company, Above and Beyond Retail Limited), who are driven to exceed customer expectations and build the business and Mills brand one customer at a time. Visit www.MillsBrothers.ca.