Office party
Biscuit General Store, 1661 Argyle Street
If you want to wear a holiday colour, it's best to keep the other pieces as neutral as possible. You want a look that says, "I am acknowledging this holiday" as opposed to, "I watched Elf before dressing today." Pair your best black boot with a simple necklace for a polished look. I suggest going all-out for this outfit to ensure you arrive with ample amounts of dignity...in case you lose some later.
---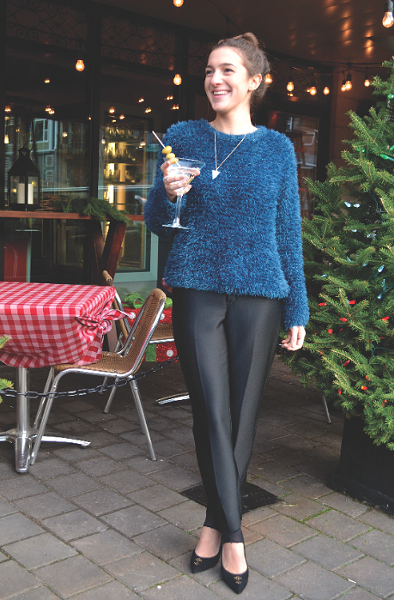 Dinner and drinks
Big Pony, 1453 Brenton Street
There is only one thing that trumps style when picking out an outfit in the middle of a Nova Scotian winter: warmth. But if you choose wisely you won't actually have to compromise. A fuzzy sweater and lined pants can be dressed up with the right jewellery and some fancy heels. A dress pant/snow pant hybrid like this is an invaluable thrift store treasure. Looking good and feeling warm no longer have to be mutually exclusive. It's a Christmas miracle!
---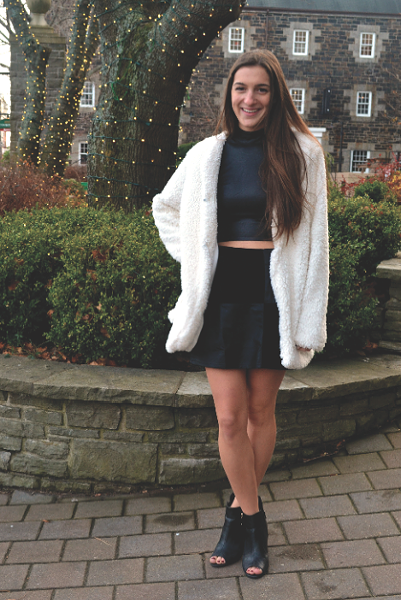 New Year's Eve
Sweet Pea Boutique, 1542 Queen Street
Do something absolutely wild this New Year's and veto the dress. Seriously, go nuts. Break things up with a two-piece outfit. Show a little stomach. Mix textures like leather and shearling. If you're heading downtown to ring in 2015, be prepared for cold, wind and a lot of pavement pounding—pair this look with a warm jacket (practicality can win on this one if need be) and a comfy boot heel for anticipated line-waiting. Oh, and good luck.
---
House party
Lost and Found, 2383 Agricola Street
Besides a few office parties, fancy dinners and various awkward social gatherings, the holidays can actually be a time to dress down and get cozy. I'm talking about good old-fashioned house parties with great beer and your closest friends. Scrap the traditional holiday getup for a grandma-worthy turtleneck, boyfriend jeans and a green or red flannel button-down around the waist to imply festivity. Casual kicks (whether oxfords or sneakers) will complete the outfit and keep the vibe easy, breezy and sidewalk slip-and-fall-proof.