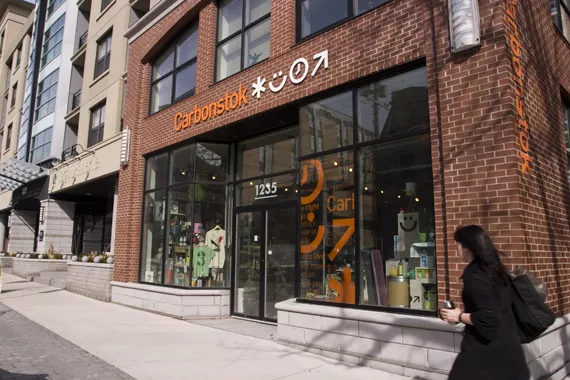 There'll be a little less quirk on Barrington this spring
Social media was buzzing with well wishes and shopping nostalgia yesterday when quirky lifestyle store Carbonstok (1235 Barrington Street) tweeted out a release stating that it'd be liquidating its inventory, and closing up shop. After nearly five years of making its patrons chuckle and crave a home makeover, Gordon Stevens made the tough choice to not renew the downtown shop's lease, which expires on March 31. "Everything is sort of just picking away at the edges," says Stevens, who also owns the Uncommon Grounds cafes, Sugah and Rum Runners Rum Cake Factory and the former Uncommon Kids. "Online shopping, big box stores, there isn't really one thing that you can say killed it, it's just generally a pretty tough environment to run a business."
Stevens, who's also a driving force and advocate behind the I Love Local movement in town says while the southern Barrington Street, though food and beverage centric, is a vibrant neighbourhood in its own right, the location isn't what makes or breaks a business.
"I think that the core customer that cares about local—whether that's locally produced or farmed or owned by local business—is stronger than ever, but the people that aren't advocates are becoming less and less concerned about that, and are living in the Costcos of the world and relying on UPS trucks to deliver what they buy," says Stevens. "What we need to do in the downtown is bring the fun back. And fun isn't all about bars, it's about those little moments when you're out that reward you for being there. Things that put a smile on your face, thing that taste good that you've never had….Businesses can only do so much within their four walls, the city and other organizations can fill in the blanks. It's not about one mega project, its about the little things."
Now would be the time to show the shop some love: Carbonstok has kicked off an inventory clearance sale, marking everything in store 50 percent off, except for the Lost Cod t-shirts, which will be 25 pecent off.