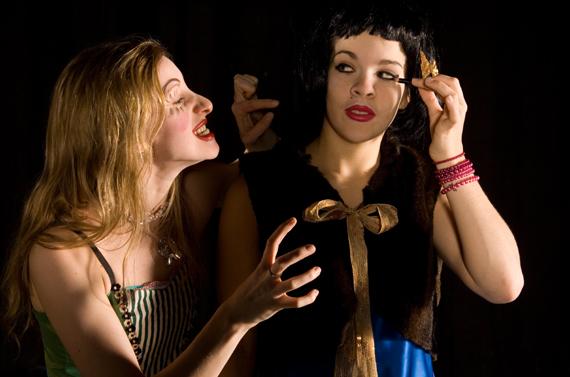 Last night Mocean Dance delighted a sold-out crowd for the world premiere of Sorrows, choreographed by Montreal's Estelle Clareton. Inspired by the campy, accordion-heavy cabaret music from The Tiger Lillies, the four dancers—Carolle Crooks, Melanie Ferro, Tania Jean and Sarah Rozee—stood at the front of a bare-to-the-brick stage, putting on make-up, adorned in wigs, feathers, fishnet stockings and leopardskin. They looked like broken-down burlesque dancers or drunken Cyndi Lauper fans. Piles of accessories, like silver shoes and tiaras, piled at their feet.
Dedicated to Yang Peiyi (the young Chinese girl who sang at the opening Olympics but was deemed "not cute enough" to be on TV), there was a sense of the grotesque (although I'm guessing there's nothing you can do to make these women "ugly"), as the dancers preened, performed, fought, yelled, growled and teased each other. A giant fan blowing out baby powder on the stage acted as sickly-smelling reminder of the downfalls of vanity and the pursuit of beauty. The mastery of physical humour recalled Verve Mwendo, and their wonderful skeleton dance. In particular, Ferro, who threw a high-pitched yelling temper tantrum, and a wigged-out Crooks got plenty of audience laughs.
After a short intermission, the dancers returned for a second piece. Compared to the brilliant silky hues of Sorrows, Susie Burpee's Rescue Left to Her Plight is dark and monochromatic. The back curtains returned, filling in the back of the stage, almost closing in on the dancers, who had wiped the make-up off their faces and changed from crinolines into varying shades of grey. Even the lighting—at one point a flashlight shone like a cave opening on two dancers lying in an embrace on the floor—is at times murky. Instead of the competing and taunting from Sorrows, the four women offered each other comfort and empathy through their bodies; arms outreached and enveloping. Although this piece doesn't provide the same eye-candy as Sorrows, the deep sense of compassion and strength is compelling in a much different way, and shows the young troupe's versatility and future potential.