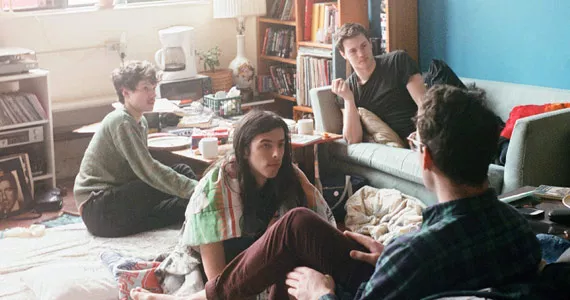 Emma Senft
Monomyth believe in pedal power.
When Halifax's resident garage rockers The Gideons decided to call it quits, guitarist/singer Josh Salter decided the band should go out with a bang. "When I was in The Gideons we put out a double LP and it was just a stupid, dumb idea," he says.
The record didn't sell, staying on the shelves at HMV as a reminder of his more carefree days playing in one of Halifax's most shambolic bands.
But after years playing in and around the city---namely with the now-defunct Quivers---Salter returns this month with a six-song cassette from the city's premiere psych-shoegaze act, Monomyth.
Formed in the summer of 2011 with Seamus Dalton (who plays with Salter in Nap Eyes), Graeme Stewart and Andrew Patterson, Monomyth sounds like nothing Salter has been part of before. Taking inspiration from Television Personalities, My Bloody Valentine and avant-garde surf rockers Thee Oh Sees ("who everyone loves in Halifax right now"), the band perfectly mixes jangly guitar pop with rain-soaked atmospherics to create an album that sounds like it could have been pulled straight from the Creation Records catalogue.
For Salter, the band has pushed him as a songwriter away from blues based guitar pop, allowing him to experiment more with the group's dense sound. "It's probably the most thoughtful band as far as pedals go I've ever been in," he says. "Usually I just plug in and don't go through anything, but I feel I'm getting slightly better figuring out what you need to use."
To create their dreamy sound on a budget, the band recorded the album at home, capturing natural reverb and their live sound as a band (they prefer to play house shows and hope this story will get them more offers).
To save on costs the band is releasing the album via cassette, and although Salter admits it isn't the best format for sound quality, he hopes fans will get the album anyway they can.
"The thing is everything goes on the internet now and can get it for free, so it doesn't really matter," he says. "If they want it, they'll find it." —