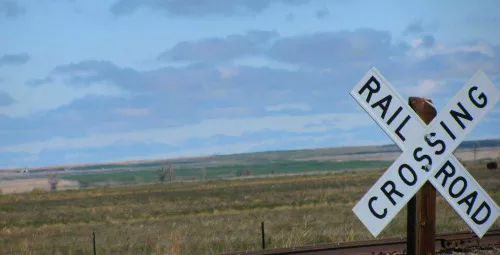 Day Six May 6
Bootlegger Trail, Montana 0 miles
Get up and it's wild wind, cold and stinging snow. Stay for another day at Ed's.
Day Seven May 7
Bootlegger Trail to Fort Benton, Montana 14.79 miles (23.8 kms)
Fort Benton is lovely; lots of work done on the main street with statues and info plaques—the kind I hated as a child for being boring and stupid but now wish to read and consider each and every. Montana's state memorial to Lewis and Clak is by the river.
Day 7
Lewis, Clark and Sacajawea
Day 7
The way ahead: the Missouri River at Fort Benton
Day Eight May 8
Fort Benton to farm, Montana 21.85 miles (35.16 kms)
On the way out of Fort Benton, on a high bluff, is the grave of Shep. In August of 1936 the body of a sheepherder was shipped back east and from then on the dog Shep met every train that came into Fort Benton for the next 5 and a half years. Folks realized Shep had belonged to the sheepherder. On January 12, 1942 while meeting a train Shep slipped on the snowy rails and was killed. His funeral was attended by hundreds. Boy Scouts were pallbearers.
It's a lovely walk up to Shep's grave.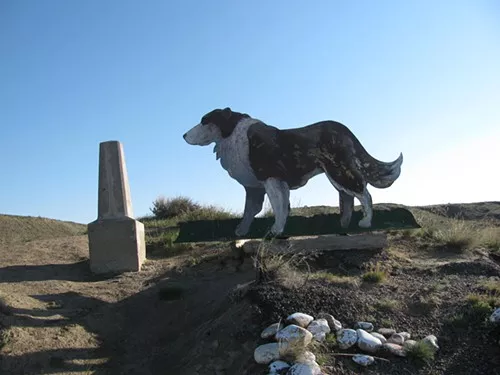 Day 8
Shep's grave above Fort Benton
Day Nine May 9
farm to south of Box Elder, Montana 25.4 miles (40.88 kms)

In Loma, a little ways (Montana style) down the road is an earth sciences museum. It was started by the couple who ran the general store, Henry O. and Evelyn Pope. They named their son Henry O. also, so they called him Ditto. They collected rocks and minerals and bones and all sorts of things, hand made the labels. They're dead now (Ditto is a dentist in Hawaii) and the town has taken over their collections. It is charming.
Day Ten May 10
south of Box Elder to Havre 26.2 miles (42.16)
There is a big difference between doing 20 miles and 25 miles, or God forbid, 26 miles. Twenty miles leaves me tired but fine. The last six miles it took to drag my sorry ass into Havre and the comfort of a shower and bed were murderous. I had a long long shower, watched TV, ate a TV dinner and slept, after a long time awake.
Day 11 May 11
Havre 0 miles
Stayed in town for a break day. Walked around town. Got a small cooking pot at the Sally Ann (the one I had was too big.) Got my next book, She's Come Undone by Wally Lamb. The book I just finished is Out Stealing Horses by Per Petterson. Recommended. In it, one of the things the 12-year-old hero learns (from his father) is you decide when it hurts. That's one of the things I kept telling myself as I slouched towards Bethlehem Havre yesterday. You decide when it hurts.
Two days to the border and then four or five days to Medicine Hat, unless I get offered a ride. A twenty minute ride equals a day's walk; the math is strange.