May 30, Day 30
Turtle Lake to McClusky, North Dakota
21.8 miles (35.08 kms)
Near the end of the day, getting towards the McClusky Canal which I will follow to the Lonetree Wildlife Management Area, a strange little building hoves up in the distance. I am on a gravel road where two vehicles have passed me in the whole day. I get to the building and there is a sign on a porch: Parking for Duck Hunters Only. On the door there's another sign: McKinnon Place. I climb the porch and look through the wooden slate blinds over the windows and see glimpses of upholstery. "Wow," I think, "that looks nice. Wish the door could be open." The door is locked. I fill a water bottle from a hose outside and then on the ground by a support for the porch I spy two keys on a day-glo yellow key tag. One key is conveniently engraved 'MP'. I try the key in the lock. The door opens. Inside is a perfect hunter's hideaway: HD TV, bar, framed pictures of Ernest Hemingway on the wall. Two bedrooms, each with two single beds done up with sheets in nice colours. A full kitchen with stocked cupboards. A bathroom. "I could stay here," I think, "like a latter day Goldilocks. It wouldn't be breaking and entering, would it, since I had a key?" I wander around the place in agony of indecision. "I won't turn on any lights. Yes I will, nobody is going to go by. I'll be gone at the crack of dawn. McKinnon will understand, if he comes; we'll get along famously." I open the fridge. The carton of milk is best before May 31.
In the end, I don't stay. The stress of worrying about discovery would age me too much. I lock the door and tuck the keys where they can be seen from the door. Up the road I get to McClusky and the canal. I pitch my tent behind a berm.
Later, just before turning in, I am up outside the tent admiring the evening sky. I turn around to face south and the entire horizon is filled with dark storm clouds and they're coming my way. When it rains n the night the tent does much better that before my taping and sealant application. I think about McKinnon Place and laugh for a minute.
May 31, Day 31
McClusky to Lonetree, North Dakota
21.7 miles (34.92 kms)
The McClusky Canal ends at The Lonetree Wilderness Area. The last hours of the day are murderously difficult, heaving Bob through scrub and ruts and bog. Every time Bob shudders to a halt I see another gopher hole. "I am going to fucking break my leg in the middle of fucking nowhere if I don't pay attention!" I hiss to me. My shoes are soaked. When I finally get to road I say to myself, "Don't. Do. That. Again."
I end up putting up the tent inside a decaying farmhouse. The windows are all blown out and the place is inhabited by birds. I don't care. At least I won't get too wet. I put the tent up just inside the backdoor, facing out into the yard.
June 1, Day 32
Lonetree to New Rockford Canal, North Dakota
13.8 miles (22.21 kms)
It is raining a bit and the sky looks like crap so I snooze off and on and finally get on the road at ten o'clock. My new policy is Start Late And Finish Early If That Looks Like The Thing To Do.
As I slog along some muddy gravel road a guy in a white truck offers a lift and throws Bob into the back. Milt has to go to Pete's Salvage first, and then he's going to Harvey. The hitch on his tractor (he says 'trachtor') has broken. He farms 5,000 acres, land that his grandfather's grandfather first settled. Mostly wheat and sunflowers (for the oil; for Spitz you have to spray and he doesn't want to do that.) He says that for every day after the first of May you plant wheat you lose a percent in yield. We look at each other, calculating the date. The rain has been horrendous. As we pass a field with a big patch of muddy ruts he says, "See? That guy got into trouble there trying to get his crop in." Milt has to get the wheat finished and start on the sunflowers. I ask how long it will take to finish the wheat; Milt says "one good day" the way he might say "when pigs fly." Pete's Salvage is acres and acres big; Milt goes off with a salvage guy in a pick-up to look for a hitch and I hang out with cheerful guys in overalls who slap around giant tires. I could move in here and stay forever.
No hitch; we drive on to Harvey. Milt has four kids, all girls; maybe the baby will take over the farm. She's sixteen, still in school, but very involved in the farm. "The problem," Milt says, "is that she has this thing for animals." His voice doesn't break, but it frays a bit, "and there's no money in animals."
In Harvey I make the error of buying nothing but a pint of chocolate milk and a giant apple danish. I could have used: wet wipes, apples, nutrition bars, some kind of trail mix, a banana. Good thing I'm not in charge of supplies for a trek to the South Pole.
A few miles down Route 3 and I am along the New Rockford Canal, flushing out ducks and pheasants. I use a big pile of small aggregate gravel as a windbreak when I pitch my tent. It doesn't look like rain, but WTF do I know.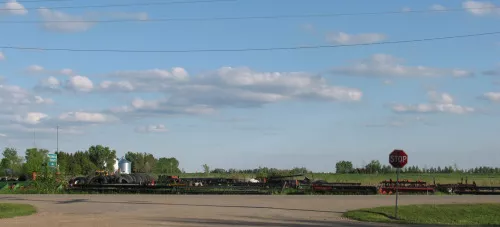 June 2, Day 33
New Rockford Canal to Fessenden, North Dakota
16.1 miles (25.91 kms)
I can't be bothered to make that crappy instant coffee so I shove off without it. The tent is wet only from dew so down the ways I start drying it out bit by bit. My problems are that a) I am very low on water and b) it's going to rain. When I see a farmhouse I head for it and the farm guy drives up in a giant tractor just as I do. He invites me in to get water and I can tell he lives alone: forty jackets all big guy size hung above forty boots all big guy size. In the kitchen are boxes of grocery store doughnuts and cans of Pringles, plus diet coke cans. When he hears I am heading for New Rockford he says why not just go five miles down the road to Fessenden, which has a motel. Nothing I like better than the promise of a room. I do, and am glad to wash my filthy clothes and self and go shopping at the grocery store for supplies.
June 3, Day 34
Fessenden, North Dakota
Today is the day my father died, I'm pretty sure. I know it was 1974. His funeral was on my birthday, and my mother had ordered a cake with circus animals on it. She went ahead and served it after the funeral. All my Dad's old country relatives were aghast.
My mother died in another, much more recent June. Sometimes in the last few days, left very much to my own demonic devices without the dilution of others or electronics, I have thought a lot about them, mostly feeling badly about things I didn't do or say. Sometimes I have carried them, my mother and my father, as Barbie or Ken sized replicas of their forty-year-old selves, sitting on my shoulders, so they can look around and enjoy the day with me.
My Dad is on my right shoulder. He is wearing his fishing/at-the-cottage/home-renovating outfit: khaki pants held up by a brown belt, brown/beige striped short-sleeved shirt and the precursors to low-cut black Converse sneaks. (He also had a pick-up truck and Bronco long before everyone else; but was also in many ways a dodo bird.) He is excited by being on the plain, the prairie: he was from Alberta. There is one picture of my Dad on the net—him sticking his head into a wind tunnel in Wichita in 1955.
My mother is on my left shoulder. She is wearing Capri-length slacks and some shirt. She is smoking and looking around, babbling a bit about the wildflowers and stretching herself out, soaking up some sun. Sometimes she sketches the hills and sometimes she just keeps to herself and reads.
I spend time looking at Amtrak's Empire Builder route, wanting to catch a train into Minnesota. Nothing looks to be working out. I remember a dot on the map at Cooperstown, ND, east of here. The dot is labeled Cold War Minuteman Silo and it turns out to be the Ronald Reagan Minuteman Missile Site, with tours and everything. About four days of walk from here: an excellent goal.