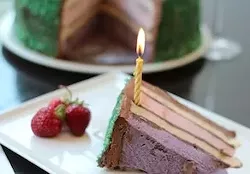 Morris East
(5212 Morris Street, 444-7663) turns five years old this month, and in celebration owner
Jennie Dobbs
is including ice cream cake---"layers of housemade seasonal ice cream and a fudgy centre"---on a three-course $30 prix-fixe
birthday menu
through the rest of July.
Dobbs' resto is a remarkable success story. She set out to create a "neighbourhood restaurant serving delicious, artisanal and local food." The last five years have "been a roller coaster," she says, but things have settled down nicely in the last year or so, having survived the three-year hurdle all small businesses face. And now, "we're considering our options for growth, looking for what doesn't exist in Halifax," she hints.
One thing Dobbs will commit to is an August 12 expansion in hours, in both directions, adding a Sunday brunch menu and staying open later in the evening, offering more in the way of cocktails and desserts.
Besides the restaurant, Dobbs is writing a cookbook, titled a la Mode; sweet and savoury pies and tarts, and is looking at a spring publication date.