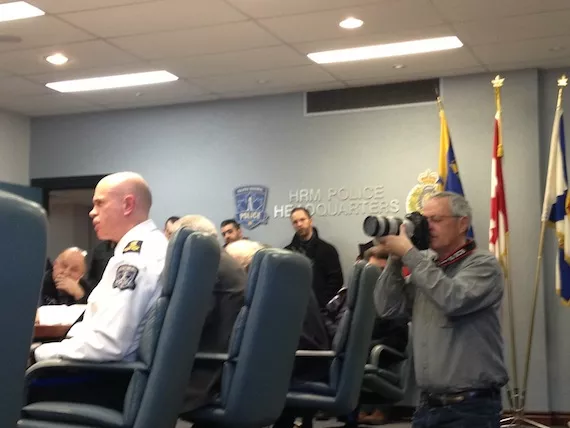 No one comes off looking good in this week's mini cop non-drama: not the cops, not the police commissioners and, mostly, not the media.
The silliness started in late January when the Chronicle-Herald, played by the police union, ran a story with the sensationalist headline "28 Halifax police jobs in jeopardy." Never mind that the article presented no evidence of eminent layoffs---the Herald was going to create a controversy, evidence or not.
Budgeting for cops in Nova Scotia is undemocratic: city council sets an overall cop budget, but the details of that budget---how much is spent on salary, on fuelling up police cars, on tasers, on dry-cleaning the brass's uniforms for the Policemen's Ball, whatever---is left solely to the discretion of the Board of Police Commissioners, which in practice just rubberstamps whatever the chief wants. But clearly, there has to be some communication between city staff and the police bureaucracy to get the whole ball rolling.
The "get the ball rolling" part is where councillor Gloria McCluskey stepped in to score political points, and the next day, quoting McCluskey, the Herald ran a screaming headline that "City staff may have violated Police Act." And pigs *may have* flown as well, but the story was utter nonsense: city staff didn't violate squat.
Tuesday morning the police union sent out a letter saying that instead of funding new buses, council should spend the money on cops. Evidently, cops think so little of the people they interact with, that they don't care if those people have to wait a half hour in the rain for the next bus.
Here's a political truth: it is impossible to lay off cops. Never mind that there is zero connection between the number of cops and the crime rate, and never mind that we've got so many cops they can spend months tracking down people partaking in victimless plant growing. You can't fire cops.
Still, there was police commissioner Barry Dalrymple Tuesday, complaining that a letter from the cop union's lawyer, Ron Pink, was "offensive" for daring to suggest that the commission deal with the budget in public.
The Coast is the only media outfit that normally sends a reporter to police commission meetings, but this week dozens of reporters and camera people showed up for the commission's non-debate about the budget. Chief Jean-Michel Blais calmly presented a budget with small increases and no cut in staff, and the media horde left.
"If they don't have any news," commented commissioner Linda Mosher, "the media will just make stories up."