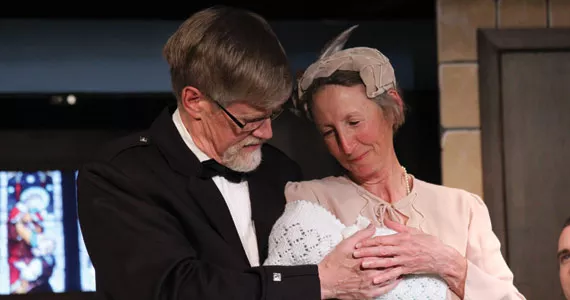 Dartmouth Players presents Be My Baby
Dartmouth Players is ending the season on a comedic note, with a light-hearted play about a Scotsman and an Englishwoman who travel to San Francisco to pick up a baby for their young relatives. Sounds funny, although a "caution, amateur actors using tricky accents" warning may be warranted. With any luck, summer will actually come so that we can enjoy the venue's air conditioning and ice cream at the interval.
June 8-25, Dartmouth Players, 33 Crichton Avenue, $15, 465-7529, dartmouthplayers.ns.ca
---
Queer Acts Theatre Festival
Theatre with fabulous LGBT themes and stories will returns this summer with the Queer Acts Theatre Festival. Presented by Halifax Pride, this year's event will feature a total of four productions by both local and out of town artists. The annual festival promises a variety of comedy, music, drama, art, discussion, surprises and more. Watch for the full lineup announcement on June 18.
July 17-24, The Bus Stop Theatre, 2203 Gottingen Street, $12-$15, halifaxpride.com
---
Theatre Arts Guild presents Laundry and Bourbon/Lone Star
TAG is turning up the heat with a Texan double bill. In Laundry and Bourbon, the first of two one-act plays, a trio of discontented wives share gossip and secrets over chores and liquor. And in Lone Star, men take the centre stage in a funny story about love, lust and a pink Thunderbird. Sounds like a sultry night of amateur theatre.
June 23-July 9, The Pond Playhouse, 6 Parkhill Road, $16, 477-2663, tagtheatre.com
---
Ship's Company Summer Theatre
Chances are, you missed Out the Meadow and Sunnyside Cafe when they had their short runs in Halifax, but you'll have a chance to see both gems in Parrsboro. Out the Meadow is a love story between a tough and tender come-from-away singer and a charming down-on-his-luck Cape Bretoner. Sunnyside Cafe features a tour de force performance by Sherry Smith in a poetic piece about a waitress with unplumbed depths. Rounding out the summer series is the Atlantic premiere of The (Post) Mistress with book, lyrics and music by Tomson Highway.
June 29-September 11, 18 Lower Main Street, Parrsboro, $27.90, 800-565-7469, shipscompany.com
---
Shakespeare by the Sea
Thanks to some much-needed restoration, SBTS is able to return to the Cambridge Battery for its wonderful outdoor productions. And thanks to some much-needed refurbishment, the company now has a proper indoor home in its Park Place office/theatre in case of inclement weather. This season sounds light and laughter-filled with Measure for Measure, The Comedy of Errors and the fun family show Robin Hood.
July 1-September 4, Cambridge Battery, Point Pleasant Park, $15 suggested donation, 422-0295, shakespearebythesea.ca
---
Festival Antigonish
It's a "summer of comedy" at Festival Antigonish, featuring three shows designed to tickle your funny bone. Caught in the Net is one of those door-slamming farces where the main character (in this case a bigamist taxi driver) gets tangled in an increasingly complicated web of lies. Heroes, the story of two World War I vets who plot their escape from a military hospital, is a play with heart and hilarity. And last but not least is Looking, a play about finding love by Canada's theatrical comedy king, Norm Foster.
July 6-August 27, Bauer Theatre, St. Francis Xavier Theatre, Antigonish, $30, 800-563-PLAY, festivalantigonish.com
---
Halifax International Busker Festival
Organizers are expecting as many as 500,000 people to attend this year's Busker Fest on the Halifax waterfront. The annual event attracts street performers from across Canada and around the world. Six outdoor sites will play host to jugglers, fire-eaters, break dancers and the like, all vying for your attention and donations. You can also expect over-priced treats and gewgaws galore.
August 4-14, Halifax Waterfront, pay by donation, buskers.ca
---
Valley Summer Theatre
It won a Pulitzer as a play and an Oscar as a movie, and now Driving Miss Daisy is coming to Wolfville. This story tackles the weighty theme of racism by exploring an unlikely friendship between a crotchety Southern matriarch and her compassionate chauffeur. For the August production, Graham Percy stars as a man grudgingly attending his aunt on her death bed in a comedy called Vigil by Morris Panych.
July 7-August 20, Al Whittle Theatre, 450 Main Street, Wolfville, $18-$28.75, 877-845-1341, valleysummertheatre.com
---
Theatre Off the Grid
A trip to Canning has become a must-do summer pilgrimage for theatre lovers ever since Two Planks and a Passion Theatre began staging its magical, memorable outdoor productions on the grounds of the Ross Creek Centre. This year's show, Beowulf, is an adaptation by Rick Chafe (who also did The Odyssey) and stars a bevy of well-known actors from this region.
July 9-August 6, Tuesday through Sunday, 6pm, 555 Ross Creek Road, Canning, $28.75, 582-3073, twoplanks.ca
---
Chester Playhouse Summer Festival
Chester is celebrating 25 years of live theatre at the Playhouse with three festival productions: the musical Jacques Brel is Alive and Well and Living in Paris, the family-friendly You're a Good Man, Charlie Brown and the one-woman show Stripes: The Mystery Circus. The season will end on August 27 with a one-night-only anniversary cabaret featuring an eclectic mix of music, theatre and more.
July 19-August 26, 22 Pleasant Street, Chester, $25, 800-363-7529, chesterplayhouse.ns.ca
---
Atlantic Fringe Festival
When Festival Director Ken Pinto announced that, due to other draws on his time, the Fringe would be taking a hiatus, a group of interested artists rallied to ensure the show would go on. The newly invigorated, celebratory Fringe will include added social events and a new wave of visiting artists. The Bus Stop Theatre, Neptune Studio, Plutonium Playhouse are confirmed as venues, with DANSpace and The Living Room also under consideration.
September 1-11, various prices and locations, 423-4653, atlanticfringe.ca