My coming out happened in stages. When I began dating my first girlfriend in high school, I told a few friends, a feminist cousin, and a high school English teacher. I came out to my Dad in an email in 2012, explaining that the girl I'd called my best friend for months was actually my partner and that I'd been dating women since 2007. A late-night teary-eyed phone call came three days later, followed by a silence that would last an entire summer.
The hardest part of that phone call was the assertion that my being gay was a product of grief over losing my mother to cancer as a young teenager. My heart was broken to feel like I'd lost the support of my biggest cheerleader and my only living parent. We're slowly healing, but a scar remains on our relationship that I still can't gauge the depth of two years on.
Still hurting from my dad's reaction, but tired of hiding, I came out publicly this spring. I expected scorn or silence from my family, but I received an overwhelming, positive response. My grandma called me to tell me stories of the lesbians she went to high school with in the 50s. My great-grandma said she loved me, but feared that my discomfort was the reason I've been absent from family gatherings in Ontario. My enormous extended family has poured out so much love for both myself and my partner. Seven years after realizing I'm queer, I finally feel comfortable in my identity and able to rest easy without the debilitating fear I had of someone finding out. For me, coming out has been a lesson in reshaping expectations. I placed a lot of fear in the reactions of the elders in my family and expected straightforward acceptance from the younger folks. When those expectations got turned on their heads, I realized my understanding of my family was even more unclear than I'd thought. That being said, I feel less like the black sheep now, and more like the prodigal daughter. Maybe you can go home again, just into different arms than you expected.
---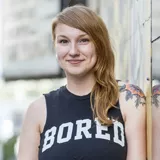 Lewis Rendell is a displaced Metis queer from Northern Ontario, SMU student, and semi-retired roller derby jammer.