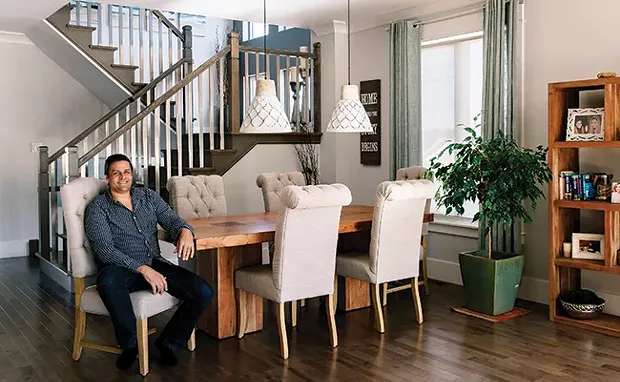 What makes this room your favourite?
We have an awesome dining room table. It's from India and it's got a nice simple contemporary design. There's a lot of natural solid wood in the space, but at the same time it's very contemporary with simple clean lines. The feel is really contemporary and rustic—it's filled with natural materials.
The inspiration
We only eat at the dining room table when we're having friends over so it's usually special.
Key details
There are pendant lights that we picked up from Wicker Emporium that are from India as well. They're a rustic whitewash and have a cool geometric design. The dining chairs are a little bit less contemporary—they're covered in a linen fabric and have tufting on them.
The room itself is open-concept. It's a corner unit so there's lots of natural light that flows into the room through the front and sides of the house. There are all different tones of grey in this house. The floor is a medium grey and the walls are a light grey so it's pretty current. I find nowadays people tend to decorate and paint using more grey tones and less of the browns and the beiges that were in fashion five or 10 years ago.
The room because is so natural. The woods aren't stained, they just have a clear-coat matte water-base finish, and they look really nice with all the grey tones on the floor and the walls.