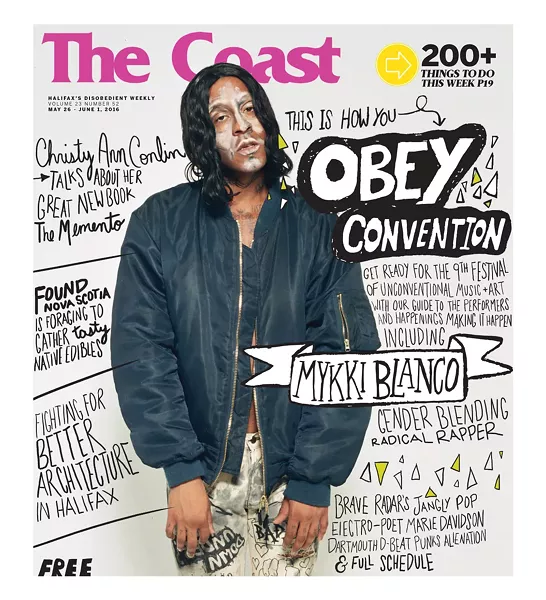 Mykki Blanco is a cover star
In contemporary art and culture, we are constantly striving to challenge and renegotiate accepted conventions and expectations. But Mykki Blanco, the Orange County rapper, poet, activist and actor—also queer, non-binary, HIV-positive and influenced by Riot Grrls—is the supreme being of artistic change in 2016. In her ascent as the most prominent figure in underground rap, and one of the only openly queer, born-male artists in the history of the genre, Michael Quattlebaum Jr. is not only a stunning rapper but a powerful performance artist who will, without a doubt, fuck with everything we thought we knew about everything.
Long before Beyoncé adopted Southern bounce back-beats on "Formation," Blanco was part of that same subculture that's now become mainstream, with peers like queer artist Big Freedia—who were marginalized from the commercial pop world until an appropriate agent ushered them in. Before Bey's lemons, Blanco was the lemonade.
Since her emergence on mixtapes in 2011 and the standout album Gay Dog Food, Blanco has not only been prefiguring the mainstream but presenting issues never before heard in rap music. Last week, she released the video for "High School Never Ends," a cinematic and passionate retelling of Romeo and Juliet from the upcoming record MYKKI, produced by "just two people," French director Woodkid and Chicago songwriter Jeremiah Meece.
"The album is very melodic, and it really represents a growth for me musically," she says before her Saturday night Marquee show. In live performance, Blanco is arresting and powerful and draws on the energy of hip-hop and the violence of punk, influenced as much by GG Allin as Beyoncé. "I try to connect very much with my audience when I am onstage, so just be open to the connection because I take special care as a performer to give my all. Be open and receptive is all I ask." 
OBEY's headliner couldn't be more in line with the festival's values. "Mykki is creating a new language for a type of music that's at the centre of culture right now, using the tropes of a very ubiquitous genre and totally subverting them," says program manager Andrew Patterson. "We like to think of OBEY as a platform for underrepresented people, whether that's the music they're making or the culture they come from, and Mykki has all of that in spades. Rap music has a long history of homophobia, sexism and misogyny, and for an artist to appear and queer the genre, and be so resonant in that culture, it's really very exciting. When you're making a festival of weird and subversive music, you can only get so big, and I think Mykki is as big as it gets."