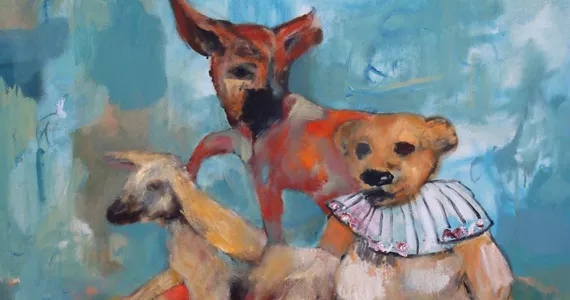 It was more than four years ago when Denise Markonish, a curator at North Adams, Massachusetts' gallery MASS MoCA, began to notice a funny thing. She kept finding that the artists who were piquing her interest turned out to be "secret Canadians": artists whose work she found in various contexts and was intrigued by, who all turned out to be Canadian. This realization caused Markonish to wonder why it was that---even given the physical proximity of this nation to hers---she "knew more Chinese artists than Canadian artists." It was this question that spurred a three-year journey that saw Markonish traverse Canada multiple times, visiting over 400 artists' studios, eventually compiling a list of almost 800 artists. That list was eventually pared down to the 63 artists, from every province and territory, who make up Oh, Canada, opening at MASS MoCA on May 26.
Beyond calling the same country home, there are few specific themes that unite the artists featured in this show. Conceptualism, accumulation and notions of identity and community emerge in this diverse catalogue of work, which features a number of local and formerly-local artists, including Garry Neill Kennedy, Craig Leonard, Kim Morgan, Eryn Foster and Mitchell Wiebe. One quality that struck Markonish time and again in the work of many Canadian artists was "re-skilling", a modern return to studio practice and craft-work. She was intrigued by the idea of "artists getting away from a post-studio practice and more into a sense of making." Contradictions and conflicts with the notion of a "Canadian identity" abound; Leonard's work explores place and history, he states that "the possibility of assuming that such a thing as 'Canadian art' exists was a central influence" on the work he has produced for the show, while also insisting that "national character is a myth." Kim Morgan's installation, Range Light, Borden-Carleton, PEI, 2010, re-imagines a decommissioned range light from a small Prince Edward Island township into a "sort of counter-memorial to the positive and negative effects of the changes, now enfolding past, present and future in the gallery space." Former NSCAD instructor Eryn Foster's installation includes a large, outdoor brick bread oven, built in a new community garden near the gallery space. She has spent her time in North Adams foraging and developing cultures from local yeast to produce a sourdough loaf unique to both her practice and temporary environment.
These contradictory notions of identity, as well as the ability for "secret Canadians" to create autonomous, highly personal work may be the result of what Markonish sees as one of the major advantages of working artistically in Canada, versus in the United States. American art systems, she believes, are "very much geared towards a commercial/gallery system of art making, as there is very little funding for individual artists," which leaves artists at the mercy of the trends and whims of the art market.
In contrast, Canadian artistic funding structures "allow for a more project-based studio practice which caters more to artist-run centres and the lower number of commercial spaces." Mitchell Wiebe echoes, believing that "here, there's a freedom to make leaps, a freedom to explore." Wiebe appreciates the environment MASS MoCA has created for its visiting artists as an extension of this freedom. This exhibition represents an opportunity to expand on his work and create "a version of what I'm doing," says Wiebe. "How I'd like to see it in the world".