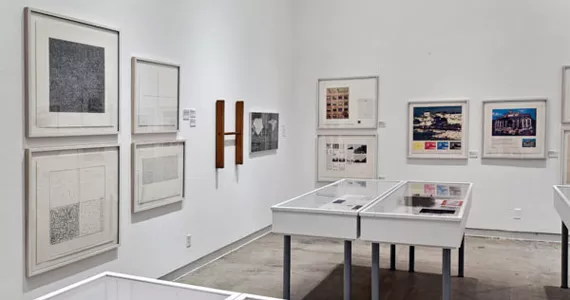 Traffic: Conceptual Art in Canada 1965-1980
A four-gallery conceptual art exhibition hits the city this week, covering 15 years of artists from across the country. Laura Kenins takes a look at the form's edgy, provocative history in Halifax.
In 1967, the sleepy Nova Scotia College of Art was suddenly propelled to international fame as a centre of conceptual art. Ontario-born artist Garry Neill Kennedy, then teaching in Wisconsin after having recently completed his master's, was appointed president and quickly moved to hire avant-garde faculty, invite visiting artists from around the world and append a design department to the school and its name.
The exhibition Traffic: Conceptual Art in Canada 1965-1980 looks at the history of Canadian conceptual art, divided into five regional sections and exhibited across Halifax's four university art galleries. Jayne Wark, an art history professor at NSCAD, curated the Halifax section, on display at the Mount Saint Vincent gallery.
Wark explains that the five curators (the others focused on Ontario, Quebec, Vancouver and the Prairies, respectively) discussed presenting the exhibition thematically instead of regionally, but felt that this would neglect the special situations of Halifax, where the art scene was very much centered around NSCAD---and Quebec---then going through major social changes and growing separatist sentiment.
"Garry created a climate that made it very attractive to international artists," Wark says. Under Kennedy's tenure, artists like Joseph Beuys, Dan Graham, Joseph Kosuth, Vito Acconci, Martha Rossler, William Wegman, Laurie Anderson and many others spoke, made work or taught at NSCAD as part of what Wark calls a "steady stream of well-known visitors."
The school was known for its flexible degree program (preserved today as the interdisciplinary major), and classes like David Askevold's "Projects Class," where the video artist invited artists to create various conceptual projects for his students to carry out; the class's first incarnation in 1969 had students working on projects dreamed up by 12 artists including Jan Dibbets, NE Thing Co. and Robert Smithson.
Kennedy's goals were to professionalize the school, and besides inviting in high- profile guests and staff, he established its first gallery, giving students the opportunity to exhibit and to see contemporary works that had been previously unavailable in Halifax. Wise to the fact that technical programs led to increased government funding, Kennedy also worked to build NSCAD's design program.
What did Haligonians make of the reinvented art college? Wark (who studied at NSCAD in the late '70s) looked at press coverage in the Nova Scotia archives in her research. Mail-Star reporter Gretchen Pierce took an open-minded approach to reporting on exhibitions and events at NSCAD---she was "positive but bewildered at times," Wark says. The school was "constantly being reported on" in the 1960s and 1970s. The Chronicle-Herald's Jack Hambleton was less enthusiastic, demanding to be taken off NSCAD's mailing list after receiving one abstruse press release. Students weren't uniformly happy with Kennedy's changes in the early years, either---they protested, and many of the more traditionally minded faculty, unhappy with the direction the school was going, chose to leave of their own accord.
Kennedy also came under fire for hiring too many American artists to teach. It was a multi-fold problem: he wanted to emphasize having specialists---artists with graduate degrees---teach, but Canada had no visual art master's programs at the time, and the number of Canadian artists who'd obtained master's degrees elsewhere was small. Besides, Canadians established in larger cities weren't interested in coming to Halifax; artists like Greg Curnoe and Iain Baxter declined offers of teaching positions. From the Vietnam War-era US, the Maritimes looked more appealing.
"Halifax was a really uninteresting place, there was nothing here. For Americans it was an opportunity to get the hell out of the US," Wark says.
The Halifax show includes prints from NSCAD's Lithography Workshop, where well-known artists were invited to design lithographs printed in NSCAD's studios. John Baldessari's famous "I will not make any more boring art" print, preserved at NSCAD as decor, an unofficial motto and on graduation rings, originally began as an exhibition at the school's Mezzanine gallery, where Baldessari directed students to write the phrase on the gallery's walls. Painting professor Gerald Ferguson proposed remaking it as a print to Baldessari in a letter: "Your boring piece looks really good." It would look great, Ferguson wrote, in lithography, "the most boring of all media."
The rest of the exhibition contains videos, archival materials, and pieces like project description cards from David Askevold's Projects Class and Gerald Ferguson's piece "One Million Canadian Pennies." Works are by NSCAD professors, visiting artists and graduates, including Garry Neill Kennedy, Eric Cameron, Martha Wilson, Theodore Wan, Bruce Barber and Sol Lewitt. The other galleries will exhibit work from the rest of Canada, with Ontario and Montreal at Dalhousie, Vancouver and the Prairies at Saint Mary's. The next weeks are filled with events, including a panel discussion on the NSCAD Lithography Workshop (March 27, MSVU), a talk on conceptualism in Vancouver (March 18) and a symposium at NSCAD.
Besides the exhibition at MSVU, Wark organized a program of videos made at NSCAD for Anna Leonowens Gallery, along with materials from the school's archives and press. One piece is American conceptualist Dan Graham's piece "From Sunset to Sunrise," a series of photographs of the sky at intervals through the day, or more specifically, "nondescript photos of clouds."
"It's the perfect example of conceptual art," she laughs, "where there's nothing to look at, nothing to see."