Jaffar Alramil From Al-Hasa, Saudi Arabia Saint Mary's University, Bachelor of Commerce, fourth year
First impressions: I didn't expect Halifax to be like this. First I went to Vancouver and it was a great environment and big city, but still I love it here more than Vancouver to be honest. Even if I go home for two months I miss it, it's like my other hometown. Biggest challenges: I regretted it when I moved here the first time, especially because I din't know anyone here. It was hard to make friends, especially with Canadians, because of the language. When I got here I had no English at all, so it was hard to talk to people. Over time I started to make friends, and started to do a lot of volunteering and that helped me get rid of the shyness I had. Advice for new Haligonians: There are a lot of international students who face hard times making friends. One of the reasons is because the the culture is really different, but I find this isn't really an excuse. Get involved with any activities the school does. It's going to benefit your resume and help you make friends. And speak to people, especially if your English is poor. How will you improve if you don't practice? You're going to make mistakes, but you're going to learn a lot.
---
Peiyan Fan From Tokyo, Japan via China Mount Saint Vincent University, Masters of Nutrition, second year
Why Halifax? I like the environment and the immigration policy here so I chose it over the United States to do my future study. I did a little research and found that Halifax was very beautiful and that it was a very different environment from where I live, and I got really excited. Biggest challenges: It's very challenging for international student to make friends. A lot of local students, it seems like they're concerned about communicating with international students because it takes effort to understand us. In my undergrad in Japan I was the only foreign student in my department. For me it was a good environment because I got a chance to speak Japanese and they appreciated that I was there because it was their chance to know someone from the other side of the world. Here not so many students are interested, and that's sad. I wish I knew: The transportation system here is a little disappointing. Advice to new Haligonians: Don't be shy, be open-minded and try and step out of your comfort zone. I know it would be really easy to stay inside your group but that won't help. You came far from your country and living here is a big investment—try to challenge yourself.
---
Shaker Bati From Tripoli, Libya International Language Institute, first year
Why Halifax: I chose Canada to study because I feel like it's the best country for students. It has a high level of education, and they care about education and students. Unfortunately I've found Canada has many problems too—there's some racism that's not clear to see outside, but especially when people are looking for a job here there's racism depending on names, culture and religion. I wish I knew: About taxes. We don't pay tax in Libya, education is free, medical is free...but when I compare education at home to here there's a big difference. If I get a education from a university in Canada I can work anywhere. Favourite things about the city: It's easy to make friends in Halifax, people are very kind. It's easy to make conversation with anyone and that surprised me—in my culture it's not easy to communicate with people who don't know. I also like that there's a lot of Libyan community here and its easy to find because it's a small city. Advice for new Haligonians: Don't come single.
---
Peiyao Tang From Jiaozuo, China Saint Mary's University, Bachelor of Commerce, third year
Why Halifax: I wanted to come to a small city and a small school, and have small classes where the professor can look at everyone and if we have any questions or problems we can talk to them. Favourite things about the city: If you're walking down the street strangers will smile at you. It's very touching, especially when you're from outside, when you're walking down the street and someone smiles to you, and says hi to you, it's like 'Oh my god I'm not that different.' Why small classes matter: In the commerce classes we always do team work, and I think that's better because four people will have four ideas and you will create some project you might not have thought of alone. Your professors know you, and they know that you're in their class. When I'm walking down the street I recognize faces from class. I might not know their names, but I know I have something in common. That's why I wanted to choose SMU. I wish I knew: I didn't realize that when I came here the winter would be half the year.
---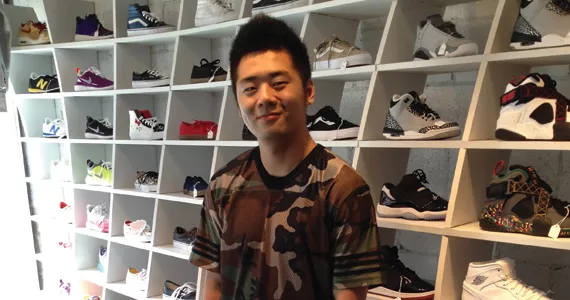 Xiaozhi Wei From Beijing, China Dalhousie University, Bachelor of Commerce, third year
Why Halifax: I went to high school at a Canadian and Chinese school in China. The reason I chose that high school is because I wanted to come and study in Canada. I came here because I really liked Dalhousie University and Canada, for me, it's so exciting to come here. And I'm lucky to come here with my girlfriend and my best friend. Favourite thing about the city: I really like it here because it's small and quiet, with really fresh air—it's clean. I went to Toronto and Vancouver and they're different. Here it's really relaxing, it's very slow. People are enjoying the sunshine, and enjoying life, and that's very good. On finding common ground: When I first came here I thought, how can I make friends? We couldn't communicate with each other when I first came here. Sneakers have really helped me. I came to Soled Out for a co-op job and I really think I can help develop here. Some people just think sneakers, you just wear them, but they don't know that it's a culture. I've made new friends through sneaker culture. And I can bring some Chinese culture here.
---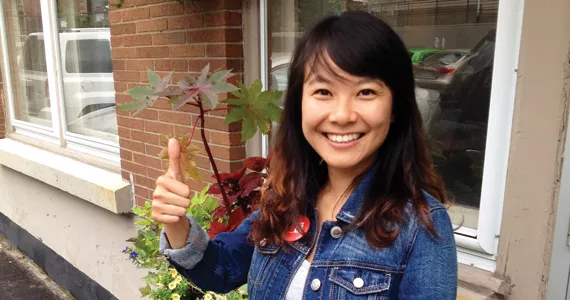 Jun Li From China International Language Institute, first year
Favourite thing about the city: This is a place full of natural scenery, it's quiet and I love that it's very safe for me. I love the people here, they are very nice and friendly. I have a lot of friends here—Japanese, Korean, Saudi Arabian—and very few Chinese friends, but I enjoy it because I can talk to them in English. I wish I knew: I wish I knew about the tax, I find the tax is very high here. And weather. But the opportunity to find a job is the main concern for me. Advice for new Haligonians: It depends on what your motivation is, but if you want to improve your English, making friends is the basic way to improve. And find a good language school!
---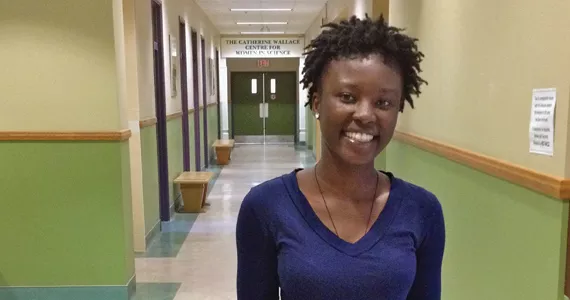 Nana Boison From Takoradi, Ghana Mount Saint Vincent University, Bachelor of Science, third year
Why Halifax? Halifax kind of felt like where I come from. The city I come from is the only city in west Africa that has all four means of transport—by train, by air, by sea, by road—and Halifax had all that. Back home they call it "the beautiful city of Halifax." Best way to make new friends: My classes and my labs, you work in groups or lab partners...I think that helps. Favourite thing about the city: Being here is a huge opportunity and not everybody gets that. So the fact I'm here, with the chance to improve on myself, do something with my life and help other people—that alone is like an incentive. Everything is is like, wow, this is great. Advice for new Haligonians: It's overwhelming at first coming from a country that only has one weather, summer, and meeting people. Over time it gets interesting—Canadians are really nice. Really nice.