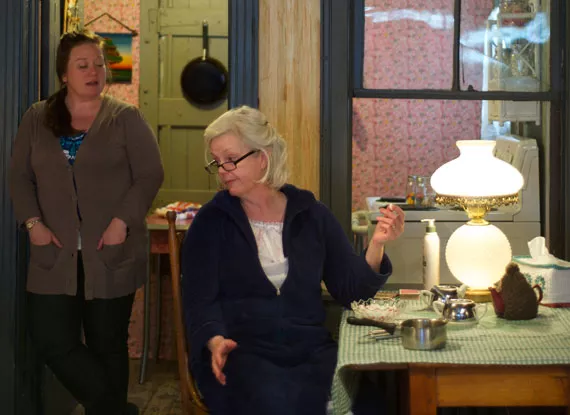 Rachel Chisholm
Jennifer Overton (sitting) and Lita Llewellyn star as family in 'night Mother.
Sherry Smith has seen a lot of plays over the years, but there's only one that has rendered her speechless. "I saw 'night, Mother in New York in 1983, and when I left the theatre, I actually couldn't speak. It was that powerful."
Now Smith is directing the LunaSea Theatre production of this Pulitzer Prize-winning play, and she predicts that audiences will be similarly affected.
'night Mother is the story of Thelma (Jennifer Overton) and Jessie (Lita Llewellyn), a mother and daughter both struggling with the emptiness of their lives, but who are at odds with the best way to deal with their feelings.
"This is a play about relationships, and about the process of letting go," says Smith. "I think that's something that many of us can identify with.
"It's a play filled with the feeling of sadness that comes from recognizing that if we don't say the things right now that we need to say to people in our lives—to our parents and our children—that chance can be taken from us."
Despite the heaviness of the topic, Smith says there are also light moments: "It's heartbreaking, but it's funny. Laugh-out-loud funny."
---
'night Mother
To May 10, 7:30pm (plus 2pm Sat-Sun)
The Living Room, 2353 Agricola Street
$15
www.lunaseatheatre.ca
www.eventbrite.ca/e/night-mother-by-marsha-norman-tickets-16612556604