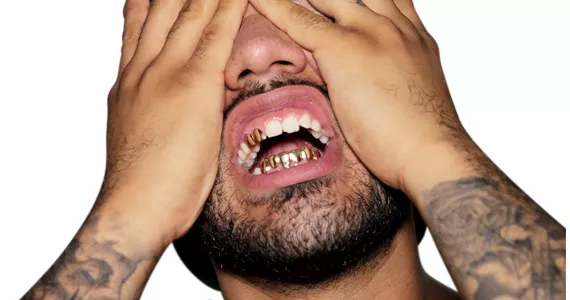 Let's just break it down for a minute: If you like hip-hop and/or rap music, you have no reason to miss Weirdo Click, Jay Mayne, Alfie and Cam Smith at The Company House on Tuesday. That's what it is. Presented by the NSCC and Fresh Goods Apparel, Night Out showcases some of the best rap artists in a fairly tight rap scene. They all happen to be friends. And it will be a time.
Organized in part by Weirdo Click's Jacob Toney, a student of the music business program at NSCC, Night Out is an opportunity for him (and his school group) to get skilled in show promotion. "Jacob's putting in hella work," says Alex "Bueller" William of Weirdo Click. Just this year, the Weirdos have played Evolve, SappyFest and three shows at Halifax Pop Explosion amid steady releases of the slickest jams. "I feel like what we're doing, what Jay is doing, the music videos, everything about it, the potential is all there," says William.
"We work together because we all believe in each other," says Cam Smith, a 2013 ECMA winner with a new concept party album on the way. "I draw inspiration from them, and I look up to them," he says. "I appreciate everything they're doing and then I gotta bring it."
From Weirdo Click's quirky solo tapes to Mayne getting more real with each release (his latest, F*kit, moves away from #choptrees rap to more serious hip-hop), it's all aurally unique but flows so well. "My style? I just rap," says Alfie (AKA Cody Paquette), an NSCC recording arts grad releasing New Fans next month. "We all have pretty different styles in our production choices but when any two or more of us get together, it just connects. We do this shit together as a team and we make it work."
Collaborating on tracks, albums and videos makes a live show that much richer. "We love live shows," says William, adding that Weirdo Click thrives on interaction. Likewise, Smith has been playing off the hook with a full band, Neon Dreams, and Mayne's been hitting up more stages this year, as well.
Now, it's about building a bigger audience. "If you haven't heard of us before, just Google us or YouTube our videos," Mayne says. "That alone should make you want to come." And the quality content is there: everyone on the lineup has "so much dope shit in the bank that you can listen to," says William.
"Honestly, you should come because we're the hypest in the city, the kind of show I want to see," says Smith. "We all bring an energy that translates to the audience. We do it to the fullest. One hundred and twenty percent."
Night Out will be hosted by Paul Doucette, co-host of Flag on the Play, and the NSCC's support makes events like this one more of a recurring possibility, prioritizing coordination and giving professional recording artists more professional contexts for performance.
"Everything Jacob learns benefits us," William says. "He's in a fortunate position to be in school and have an immediate application for what he's learning." Luckily for Toney, his friends are fly as hell.
---
Night Out w/Jay Mayne, Cam Smith, Weirdo Click, Alfie, Paul Doucette, XXX CLVR
Tuesday, November 19 at 9pm
The Company House, 2202 Gottingen
$5