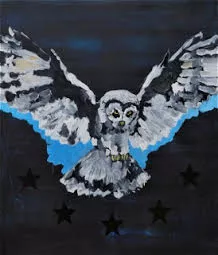 Jon Claytor's work is up at the gallery until Saturday
The show ain't over for (((Parentheses))) Gallery and Art Projects. Word on Gottingen Street was that the gallery was closing, especially after Big Pony's announcement they would be moving into the space, but co-owner Dave Hayden says they are just shaking things up and breaking from the traditional gallery mold.
"It was never supposed to be a brick and mortar, door, room space—the whole idea was to be part of the community," says Hayden. He and co-owner Kevin Lewis opened the gallery three years ago to engage with the community and showcase artists from near and far.
"We're closing but not closing," says Hayden, describing the multitude of projects he and Lewis have underway. In the upcoming months the wayfaring curators have lots more to showcase—they are collaborating with a local business to present mural in a currently undisclosed location and for the past six months, they've been curating shows at FRED. (2606 Agricola Street). They will be presenting a photography exhibition there with Lucy DeCoutere in late May.
The final exhibition at the Gottingen street space, Lost and Looking: New Paintings from Jon Claytor, clues up on Saturday, April 25.