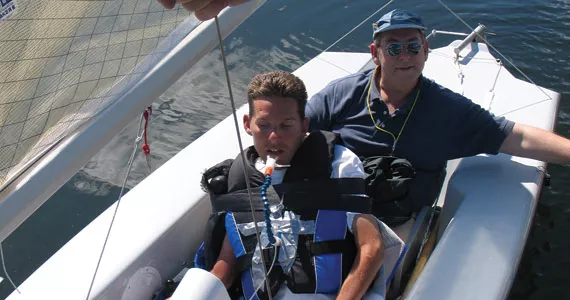 Getting on the water
Kevin Penny's first outing on the seas was four years ago at the Mobility Cup, a sailing competition hosted in Vancouver. As a quadriplegic, he needed to be secured to the boat. He wasn't too thrilled. "All I was thinking was if we capsize, I'm strapped to the boat," he says. Years later, his fear has disappeared and he sails often. "You feel like the whole world disappears," says Penny, co-chair of the Sail Able Nova Scotia Board of Directors. "It gives me the opportunity to have fun and stay competitive."
Sail Able Nova Scotia offers sailing lessons to people with mental and physical disabilities. Based at the Royal Nova Scotia Yacht Squadron, students get the opportunity to sail in the Northwest Arm.
The Learn to Sail program begins June 27 with a kick-off barbeque at the Royal Nova Scotia Yacht Squadron on June 25. Lessons are 10am-12:30pm and 1:30-4pm Tuesdays to Saturdays. To book an appointment, email nssailable@gmail.com.
Looking for a workout on the water? The Sack-a-wa Canoe Club on First Lake in Lower Sackville offers kayak lessons for people with disabilities through its PaddleALL program. Kayaks are outfitted with ergonomic seating to allow students greater use of the boat. Practices are held three times a week. The summer program begins on Sunday, June 26 and costs $150. To sign up, send a note to Brenda Hewitt at register@sackawa.ca. Indoor sports
For rainy days, keep active through team sports. Sport Nova Scotia is beefing up their efforts to support parasport. There is a new website linking the major sports organizations and a new parasport coordinator, Ben Marsten.
"We have a generation of children who have a shorter life expectancy than us," says Jaime Ferguson, CEO of Sport Nova Scotia. "We want participation in all the different levels of sport and give kids somewhere to go."
Several programs are being offered this summer. Boccia, a paralympic sport, involves two teams throwing balls at the white target ball. Boccia is played every other Saturday at the Saint James Anglican Church.
Wheelchair basketball is one of the most popular sports on any kind of wheels. The adult summer league will be played from mid-June to September 1 at Mount Saint Vincent University. The Halifax Wheelchair Basketball Association is hosting the Wheelchair Basketball Camp for kids from June 18-19 in hopes of developing a youth team. For more information on other sport programs, visit sportnovascotia.ca.
Also look into the Halifax Area Leisure and Therapeutic Riding association, a charitable group that coexists with the Bengal Lancers, offering opportunities for people with special needs to ride horses. Though mostly for children and young adults, inquire with the cleverly acronymed HALTR about programs for grown-ups too at bengallancers.com/HALTR.
Art
For the not-so-sporty, an art gallery exhibition can be a great summer diversion. The Veith Street Gallery supports and mentors artists who are members of the Creative Spirit Collective, a group focused on artists with disabilities. "We have a three-prong approach to art," says Mike McCarty, curator of the Veith Street Gallery (3115 Veith Street). "We want to help people in the craft, learn about the business and create art as a gift to the world."
The gallery has an array of events for the summer. Their next show will be Brenda Dela Rosa's collection, who is the current artist-in-residence. Patty Wallace, the former artist-in-residence, will have her show opening in August.
The collective will be exhibiting work at Photopolis, a festival showcasing local photography. Photo shoots as well as workshops will be held on July 29 to create work for the exhibit. July 29 will also be a day of horrors ---members are encouraged to show up in classic horror gear to help create photography for the "gallery of horrors" exhibit to be showcased in October.
For those looking to create art, members can take lessons. Professional artists can apply for the gallery's artist-in-residence program. Through donations from the United Way, artists receive an honorarium, studio space and supplies. Recently the gallery added the project curator program to help ease the transition to becoming a professional artist. Project curators collaborate with other artists to create new exhibitions and also help in administrative work in order to learn more about the art business.
"A lot of people make art and give it to their friends," says McCarty. "Without a public venue to show it, there's no end point. We want people to have the freedom to people to show in public and have professional status."
The Veith Street Gallery is open Tuesdays to Thursdays 11am-4pm.