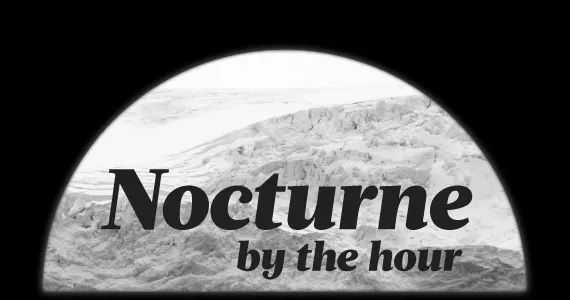 We won't pretend that any one person could see all of this year's Nocturne offerings (although it's certainly worth trying), and breaking it down by hour seems more manageable. On your way to our featured projects, make pit stops at these pieces of interest
6pm:
Before you start, remind yourself to keep an eye out for the Cycle Jerk Pleasure Ride, an unofficial Nocturne event where stealthy sexy riders who have transformed their bikes into pleasure-providing sex toys will ride disguised (or not) through the city for one hour. They'll be the happy ones.
7pm:
Beach Pong invites you to play a life-sized game of Pong on the beach volleyball court by the waterfront. You shouldn't be too tired yet so now's the perfect time to get some physical activity in. Beware of obstacles, you don't want to look like a fool while playing a life-sized game of Pong in front of a crowd.
Yet another waterfront game! Near the Maritime Museum, the HMCS Sackville will fight off enemy boats, in Starwars on the Waterfront, one can only hope not literally.
8pm:
Ryan Josey's Fair Winds; Safe Return displays a 50-foot poem outside the Maritime Museum, written in the International Code of Signals. Decipher the signals and not only have you learned a new skill, but you get to read a giant poem.
Two Nocturne projects for the time commitment of one at Museum of Natural History, courtesy of CFAT? You better believe you're going to this. Véronique MacKenzie performs multimedia dance piece She Wakes Up Gasping and Greig Oldford presents Codweb, a sculptural/multimedia/electronics work mapping the food chain of cod.
9pm:
All this talk about cod is making me hungry. Roy Caussy's SMOKELIFE III at Grand Parade (read more on page 18) allows you to collaborate on a hotdog, then allows your stomach to collaborate with you on digesting said hotdog. You get a hotdog, is what I'm saying.
10pm:
Womanhood: From the Outside In at The Company House explores the idea of womanhood, while Kim Cain and Wendie Poitras use sculpture and still images, respectively, to reflect on what it means to be a woman of colour in Halifax.
Then, pop by the Coast offices on Maynard and Cunard, why don't you, to get your very own Coast cover (you know you deserve one) and interview from the same chuckleheads behind this paper at Your Face Here. I can show you my desk! Just kidding, you can't go back there.
11pm:
Lost and Found presents a smorgasbord of work from Jesse Mitchell, Lizzy Babych and Will Vandermeulen, a mix of crafts, painting, sculpture and odd but familiar objects.
---
Getting around
Nocturne takes place all over Halifax and Dartmouth, and there's lots to see. There are multiple ways to get to all the projects that tickle your brain. Clean Nova Scotia runs a bike valet for bicycles and other forms of human powered transport in the Taz parking lot, 1521 Grafton Street, so your ride can stay safe while you're exploring. One free chartered Metro Transit bus is available, following a route geared towards ultimate Nocturne viewing, and it's wheelchair accessible (see the route on Google Maps). The Halifax-Dartmouth ferry is another Nocturne hotspot, as Samba Nova, Old & Weird, The Pretty Nihilist, Special Costello, Weirdo Click and RealEyez perform on the humble boat all night. Navigate the online world by using the Nocturne hashtag #NocHfx14, you can also tag a particular exhibit with its exhibit number. If you're the info-gathering type, Nocturne is attempting to get a handle on how many folks attend—at 8pm and 10pm, count the number of folks around you as far as you can see, and tweet these numbers at Nocturne with #NocCrowdCount. Streets are busy with people, so driving and parking may be slow-going—last year an estimated 30,000 people wandered the streets. If ever there was a night to take the bus, this is it.