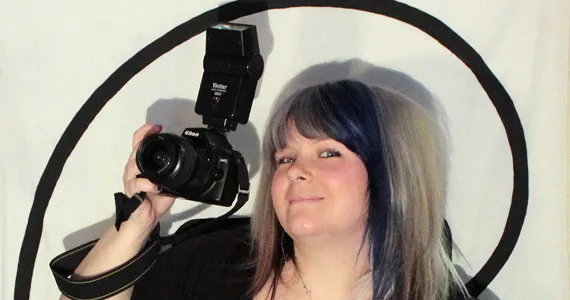 Tiffany Naugler
Snap-happy Naugler celebrates three hard-working years.
Sitting in Tiffany Naugler's cozy north end apartment, where framed show posters and press passes decorate the walls and freshly painted wall-sized banners and piles of handmade merch hang to dry, it all becomes clear: work and play can co-exist. And they do here at the nerve centre for Noisography.com, a local website that delivers the sights, sounds and opinions of the local (and sometimes visiting) music scene consistently and honestly.
Noisography was born out of an affair three years ago, a Post-Rock Love Affair, that is. That was the name of a personal blog Naugler ran with Dan Nightingale which started mainly as an outlet to share photos. After years of wielding a point-and-click camera at shows and friends' practices people were beginning to ask where they could see Naugler's shots; Nightingale chipped in with the words, writing blurbs about what he was listening to and reviewing the shows that she was documenting. After some Obey Convention coverage started getting more hits than they expected, the pair decided that the name had to go and so became Noisography. "I wanted to be able to show off as much Halifax music as I possibly could in one spot," says Naugler of the site, which has quickly become her second full-time job. "There's a lot of music coming out of here and it seems a sin that half of it doesn't get heard or seen."
Now Noisography is a well-oiled machine with Naugler and Nightingale at the helm and a small crew of keen writers, photographers and videographers who've offered their skills to the project. Usually, bands come to them with requests for coverage (about three a week) and over 100 people check out the site daily. "Sometimes I'm like, something that sprouted out of this tiny, little apartment just got huge," says Naugler, who---thanks to her work on the site---was approached to cover last summer's Evolve for CBC Online. "All of a sudden I'm hounding people about deadlines. Technically I don't have to do it. The whole site is completely volunteer-based, nobody has to do anything," she says. "But we're all on it, all the time."
To properly commemorate three years, Naugler's cooked up a metal marathon that she calls a "sensory overload." Mayhem's Eve takes over the Bus Stop Theatre on Saturday night for two sets: the first for all ages with Orchid's Curse, Last Call Chernobyl, For the Hollow and My Friend Grim and a later (legal-drinkers only) lineup with Hellacaust, North End Metal All-Stars, Cicada and Obsydian. A backdrop of classic horror movies, plus a photographer-approved light show ("no red lights!" says Naugler) will add to the ambience and yes, there will be cake.
"Noisography has been vital to the scene since their launch and have only continued to grow and further develop their craft over the past few years," says Josh Hogan of Orchid's Curse and Red Tentacle, a partner in planning Mayhem's Eve.
Much like the site itself, Saturday's show will be a winning combination of hard work and celebration for Naugler, who'll also turn 30. In a sense, it's a gift for herself. "Seeing people who are working just as hard as I am on their music really happy with how we can help them is basically my whole thing," she says. "I don't care if I ever get paid. The potential is there I guess, but I don't really want to capitalize on that."
Mayhem's Eve, Saturday, March 10 at the Bus Stop Theatre, 2203 Gottingen