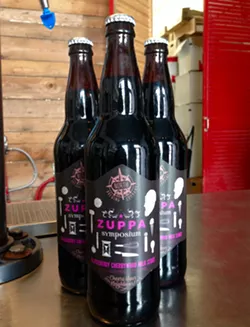 Who says you only get one shot at true love? Not Zuppa Theatre Company. Pop-Up Love Party, its wildly popular theatrical and culinary quest to define the l-word, is back to lift us up where we belong (entertained, with full bellies) this weekend, staging another sold-out run, this time in Dartmouth.
Battery Park Beer Bar is Zuppa's stage, North Brewing Company its co-star. The constantly collaborating brewery—fresh off the release of a summery sour inspired by chef Renée Lavallée —has brewed an special beer to pair with the play (or, any lonely winters night, really), called Zuppa Symposium.
"At the end of the summer we got a whole bunch of fruit from Beet Rouge and we processed it and froze it to make interesting stuff in the winter when it's slower and there's time for fun experimentation," says North's Peter Burbridge. The result is a blackberry cherrywood milk stout, tart thanks to 38 pounds of berries with a woody finish, reminiscent of barrel-aged character. "There's tartness from the blackberries, a little wood on finish. We kind of thought the fruit and the cherrywood had a bit of a Valentine's feel to it."
The beer isn't just for attendees of Zuppa's re-imagining of Plato's The Symposium—which features a seven-course snack menu designed by chef Daniel Burns—it's available in private liquor stores and North's Dartmouth and Halifax retail shops as well.
"I think more and more the co-marketing, and being able to work together with other small businesses and community groups, makes a lot of sense," says Burbridge, of joining forces. "These are things that are important to us, culture, community and culinary. It's nice to feel like you're really part of a community."
————
Pop-Up Love Party
Feb 16-19, 9pm
Battery Park, 62 Ochterloney Street
SOLD OUT