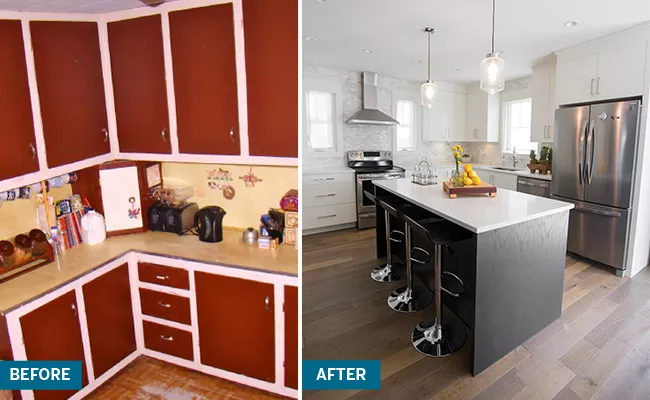 Nicole Lapierre Photography
Sisters share clothes, secrets and sometimes bedrooms. They help each other get ready for things, from birthday parties to bridal parties. They pool resources, life experience and accessories. But, in the case of Brianna Stratton and Alicia MacDonald, it's more than just swapped gossip and borrowed outfits. They shared a vision—and a tool belt—to create the ultimate north end dream home, complete with a modern fireplace and sunny front porch.
When Stratton and her husband, Drew, were ready to leave condo living behind, a pre-Halifax Explosion home on Union Street caught their eye. It wasn't so much the home's wall-to-wall beige carpeting and dated cupboards that convinced them to drop a down payment, though: It was its location.
"When we went into this house, we loved the neighbourhood. It backed onto Needham Park. It's a community that we love," Stratton explains.
She knew that once the house and yard were modernized, its ugly duckling status would quickly be revoked. But first, they had to put in the work.
MacDonald (who owns Orr Interiors) sits next to her sister, wearing a flowing grey cardigan that matches her manicure with laser-like accuracy. She's quick to add that while the house's potential was there, it took a lot of digging to get to it. "The house was almost falling down," she says. Stratton adds, "And the backyard was like The Secret Garden but, like, worse."
"There were trees going into the foundation," MacDonald finishes, flipping through photos of the renovation on her phone.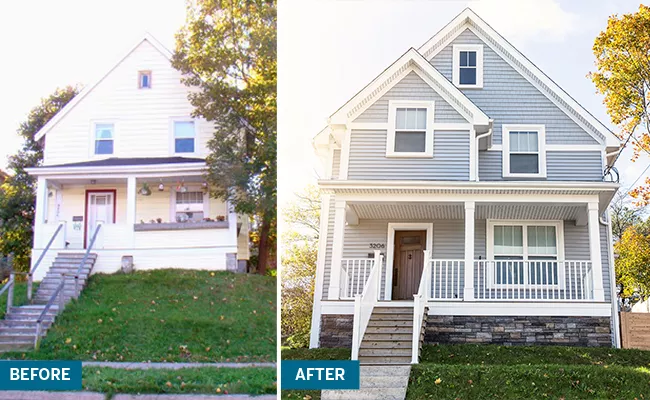 Nicole Lapierre Photography
The home was completely gutted down to the frame. Walls and carpets were ripped out mercilessly. The backyard was levelled and manicured as sharply as MacDonald's nails.
"Alicia would come over to our old spot and lay out all the tiles of the house, all of the paint colours, and everything went together—even the shingles outside," Stratton says, explaining her sister had a vision of the entire home's palette before they began.
This vision acted as a visual mantra of sorts, something to return to when surprises like a leaky basement came up. It also helped the Strattons choose where to splurge (a stunning Moroccan-inspired mirrored kitchen backsplash) and where to save ($40 bathroom lights from Home Depot).
Nicole Lapierre Photography
Today, the home is all airy whites and greys, warm wooden floors and pendant lighting, awash in natural light. Strategic hits of navys and blacks (like simple, floor-kissing curtains and the kitchen's sleek island) keep the look grounded.
"My favourite part was this room divider and storage space," MacDonald says. Stratton adds that the black cabinetry pulls triple duty as hall closet, cleaning supply storage and liquor cabinet.
"Since doing the renovation, our neighbours walk by and say to us 'Oh, we love that you kept the style of the house,' and that we made it new and beautiful," Stratton says.
It seems their secret garden became the star of the block after all.